Port Adelaide coach Ken Hinkley has described the treatment of discarded St Kilda coach Brett Ratten as terrible regarding the look of a senior coach being sacked months after his re-appointment.
Emphasising that he did not know the details behind Ratten's sacking and that he did not wish to discuss another club, Hinkley said that observing it from Ratten's point of view, he was treated poorly.
Former St Kilda coach Brett Ratten.Credit:Getty Images
Hinkley broached the topic of Ratten's treatment in the context of his own position, saying that he was "really relaxed" about his situation at Port Adelaide – no decision would be made on his future until at least August – but that having coached in the AFL system for 19 seasons consecutively, nothing surprised him.
"I'm really relaxed about it [his own future]. You said it before, I've been back at AFL coaching since 2004. I've done 19 years. I've seen a bloke get re-signed and then sacked, six months ago.
"So what's going to surprise me? Nothing."
Ratten was sacked three months after signing a contract extension.
Asked to elaborate on Ratten's circumstances, Hinkley said: "I thought it was terrible in so far as the way you treat people.
"Again, I'm not talking about another club but just the look and the support that you need to give people, it didn't look great. But I don't know the detail, so it's not for me to pass judgement on.
"I just know, from Brett's point of view, he was treated poorly."
Hinkley was briefly an assistant coach at the Saints during former mentor Malcolm Blight's short-lived stint (2001), leaving shortly after Blight was sacked just 15 games into his contract.
The treatment of senior coaches including Ratten and Essendon's sacking of Ben Rutten – and the reality that coaches at less financially robust clubs often have six month termination clauses on longer deals (as Ratten did) – has led to concerns from the AFL coaches about the stresses and environment for coaches.
But Hinkley said he did not think the stresses on senior coaches – workload and pressures – would dissuade people from seeking senior coaching jobs.
"No, I think you'll always find people go down the road, it's still a competitive and great environment for competitors. That's what you crave in your life, stupidly. That's what you chase, it's what you want to do.
"There will be plenty of people who still want to coach, but it's a bloody big job … and ultimately, you're held solely responsible, but it's your team, it's your support staff, it's everything that goes into what you do that makes you successful."
Hinkley said Port Adelaide hoped that Josh Carr – the 2004 premiership hero who has returned to the club as assistant coach after a stint at Fremantle, his other former club – would go on to become a senior coach one day.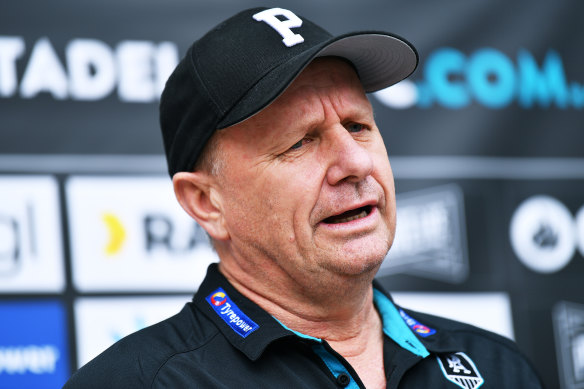 After 19 years in the AFL coaching system, nothing fazes Port Adelaide coach Ken Hinkley anymore.Credit:Getty Images
"He's crossed the Nullarbor a few times, it's great to have his family right back in the Port Adelaide group. You know, he's been in a good program with the Fremantle Dockers, he's learned a lot since he left Port. He's come back a really rounded coach, and we just love having him back at our footy club.
"We hope Josh does go on [and become a senior coach] and we've had other people at our club, you know Vossy [Michael Voss], Nicksy [Matthew Nicks], the late Phil Walsh, who have gone on to become coaches in their own right. Ultimately if we can help anyone get to that, I think that would be great.
"Josh is not pushing and chasing that desperately, Josh is really comfortable that he's still educating himself."
Meanwhile, Hinkley said that he expected 2021 Brownlow medallist Ollie Wines, the club's vice captain, would likely succeed Tom Jonas as Port Adelaide captain. Jonas will lead the Power for the fourth straight year.
"Tom is the right person to lead the club. Has been for the last four years. It was clear by everyone at the club, everyone knows that Ollie's – Ollie's his 2IC and at some stage probably Ollie will potentially be the captain."
Keep up to date with the best AFL coverage in the country. Sign up for the Real Footy newsletter.
Most Viewed in Sport
From our partners
Source: Read Full Article