Save articles for later
Add articles to your saved list and come back to them any time.
The Sea Eagles won't change their gameplan when playmaker Josh Schuster returns to the side this weekend – because half the time the team have no idea what he's going to do anyway.
But it's Schuster's unpredictability which makes him so dangerous to an opposing team, and so exhilarating to play with, according to Manly centre Brad Parker.
"I've just got to be aware of what he's going to do. He's obviously, you know, a creative player, so you've just got to be ready at any moment for something special to happen," Parker said.
"I don't know what he's doing. I went from playing with Kieran Foran last year, you know [he's] strict to the structure, and now I've got Shuey [Schuster] who is chip and chase on our own 10 metres, so I don't know. I've just got to be ready, and I know now what he's like, and it's good. It's really exciting."
Schuster has missed Manly's past three games, including the team's brutal victory against the Storm last week, due to a quadriceps injury.
His return for Manly's clash against the Wests Tigers is a welcome sight for the team, with the Tigers desperate for a win and fresh off a bye.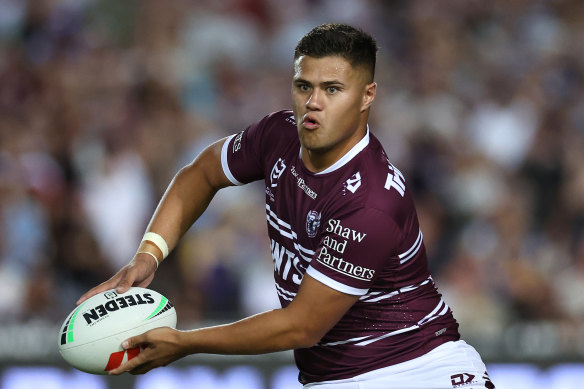 Manly Sea Eagles five eighth Josh Schuster.Credit: Getty Images
And while Schuster's plays can be unpredictable for teammates, they can be a stroke of genius when it comes to confusing opposition defences.
"He's got a lot of X-factor in him, and we just leave it up to him, and do what he does best," Parker said.
"He just goes off the cuff, and he sees things that no other player sees, so credit to him, and it's really great to play with. I think that's what he tries to do, tries to confuse everyone, and then hopefully it works out."
Sea Eagles winger Reuben Garrick also returns after missing last week's game due to a concussion suffered in the side's  loss to Penrith in round six.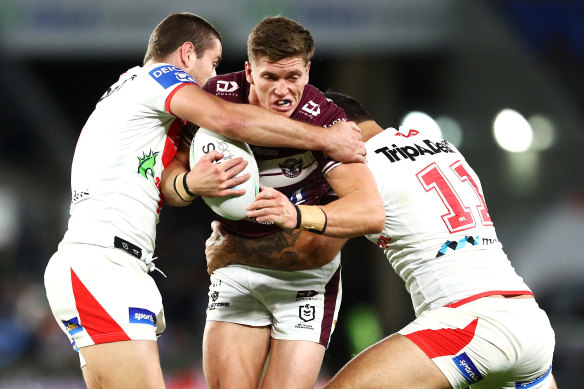 Sea Eagles winger Reuben Garrick returns after suffering a concussion in round six.Credit: Getty
"It was very hard to watch [last week's game], I was jumping out of my chair a couple of times, but the boys out there played awesome and the crowd out there played a massive part as well," Garrick said.
The winger said he had recovered fully and was ready for Sunday's game at Campbelltown.
"It's feeling good. It's a weird experience because you feel fit and ready to go, especially on game time, but you've got to follow the protocols and do what's best for you."
Despite a winless start to the season for the Wests Tigers, the Manly pair said they can't be complacent.
"Every weekend in the NRL is a battering, obviously that game [last week] was very physical, but we're doing everything right here at training to get ourselves fighting fit for this weekend," Garrick said.
"It's a big game for us, we haven't won on the road yet.
"So we're really looking forward to that, we have the motivation towards that this weekend, and they're going to come out all guns blazing as well.
"They've had a tough start to the year, and they're really looking for a win."
Stream the NRL Premiership 2023 live and free on 9Now.
Sports news, results and expert commentary. Sign up for our Sport newsletter.
Most Viewed in Sport
From our partners
Source: Read Full Article