Powerhouse prop Payne Haas has revealed how Sonny Bill Williams has repeatedly checked in on his welfare during the latest contract saga with Brisbane, why he wants a shorter-term deal with the Broncos, and the most important thing when it comes to his future is the happiness of his one-year-old daughter, Lalita.
Haas was happy to be in Sydney and away from the intense Brisbane spotlight where his immediate future has been a huge talking point since he requested a release last Wednesday, which resulted in him being booed by his own fans two days later.
NSW coach Brad Fittler had his own concerns about Haas' head space and was not sold he should pick him for Origin I until he picked up the phone last Friday.
"It wasn't until I spoke with someone from Brisbane, to Payne himself and his management that I felt more comfortable about what the situation was," Fittler told the Herald.
"It was one of those situations that got out of control quickly. Payne was the first person I called on Sunday. He's important. For a 22-year-old, he's dealt with a lot and been on a really steep learning curve."
Haas, who quipped the last time he was in Sydney he was involved in a heated push and shove with Broncos teammate Albert Kelly who trod on his new white shoes, said Williams had played an important role in his life as he tried to thrash out his contract situation at Red Hill.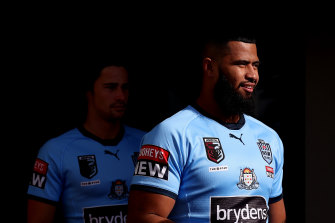 Payne Haas was the first player Brad Fittler called on Sunday.Credit:Getty Images
Haas reportedly wants $1m for 2023 and 2024, then $1.2m for 2025. He says he has no interest in inking a six-year deal, which has been reported.
He says he is not asking Brisbane for more money, just less years. Haas said he refused to drop his head, especially when his late older brother, Chace, who was a quadriplegic, refused to "kick stones" about his own situation.
"I made a mistake signing too long with my last contract … and if it was all about money, I would have left ages ago," Haas said.
Williams and Haas have been friends for several years, and Williams can relate to the contract stand-off given the one he was involved with at Canterbury.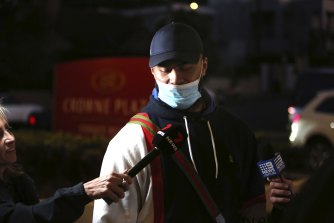 The powerhouse prop arrives into camp at Coogee on Sunday night.Credit:Nine
"He has been good for me and making sure I'm alright, he's making sure I am coping with this stuff," Haas said of Williams.
"I know he has been through this, probably a bit worse than what I'm going through.
"He is a good role model. He has had his flaws in his life, and to see the man he has turned out to be … he's told me to keep my head, stick to footy, and the problems I am going through now are nothing compared to what some people are going through.
"People have houses getting taken off them, losing family members. This is pretty easy for me. Footy is fun. It's only contract stuff."
Haas said he would have understood had Fittler snubbed him, but also grateful he gave him the good news early Sunday. "'Freddy' is a good dude and easy to talk to," Haas said.
Most Viewed in Sport
From our partners
Source: Read Full Article