The Royal Hall of Industries has had a lot of different guises over the years.
Best known to the people of Sydney as the old showbag pavilion back when the Easter Show used to be held at Moore Park, it's also served as an events space, art gallery, ice-skating rink, a military administrative centre during World War I and, when the Spanish flu epidemic broke out, a morgue.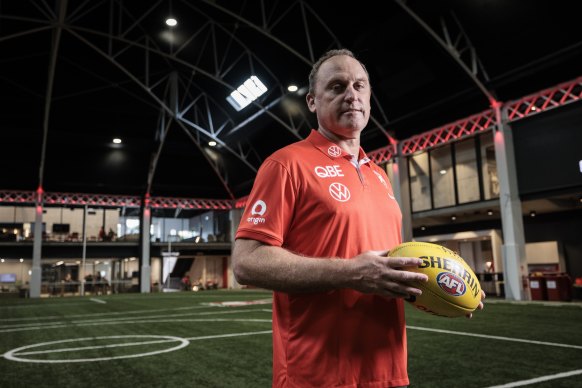 John Longmire at the Swans' new $70 million facility at the Royal Hall of Industries in Moore Park.Credit:Brook Mitchell
John Longmire remembers when his mother would travel up to Sydney from Corowa, near the NSW-Victoria borer, to compete in showjumping events at the Easter Show, camping in the horse float with his grandfather while his sister sussed out the showbags – probably not far from his new office.
That famous old red-brick building – next to Hordern Pavilion on Driver Avenue, a drop punt away from the SCG – now has an entirely new purpose as the long-awaited headquarters of the Sydney Swans.
Built 110 years ago for $23,000, it has been given a stunning $70 million transformation which has turned it into the stuff of sporting dreams, bringing the Swans' AFL, AFLW and academy programs under one roof for the first time, as well their full administrative team.
Even Kevin McCloud would love what they've done with the place – or he might have if the Grand Designs team didn't turn down a pitch from the club to dedicate an episode of the TV show's Australian edition to the renovation.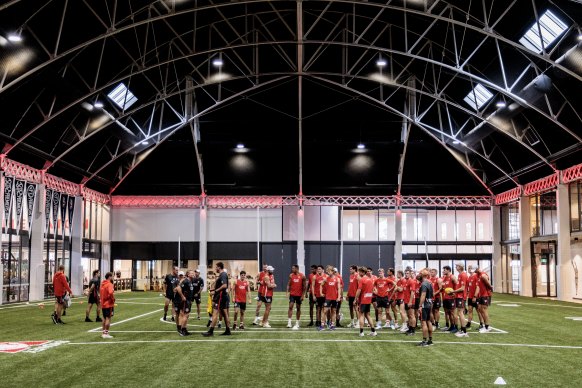 The Swans are loving their new digs.Credit:Brook Mitchell
Where other AFL clubs have ultramodern, almost spaceship-like training facilities, Sydney's has a soul.
"It's got a rich history for Sydney, and that's what's great," Longmire said. "You look at the heritage outside of the building, and straightaway, it's a special building, an iconic building in this area."
The centrepiece of the new-look Royal Hall of Industries is a 60 x 30 metre artificial grass field in the middle, surrounded by offices and meeting rooms on each side and a fully decked-out gym – but there's nifty little features at almost every turn, including a creche, auditorium, meals area, players' lounge and various function spaces.
Builders are still putting the finishing touches on a few other additions, including a bar, museum and merchandise shop where fans will be able to hang out during the week or grab a drink before a home game up the road.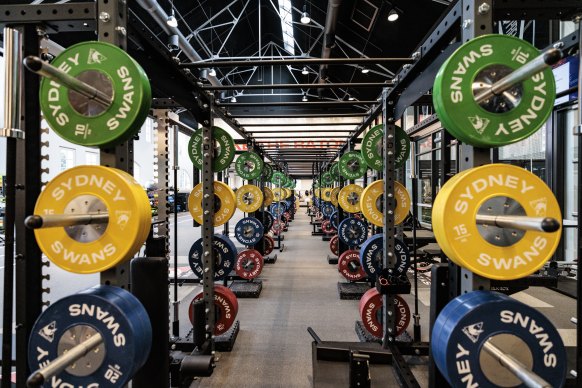 These weights won't lift themselves.Credit:Brook Mitchell
It's the "little things", like the whole club mixing in the one spot at lunch, which Longmire appreciates the most. The Swans have long had a club culture that has been the envy of the AFL, if not all of Australian sport, and this joint certainly won't hurt it.
Some players might not have needed any extra motivation after Sydney's shattering 81-point AFL grand final loss to Geelong, but it at least gave them something to look forward to over the summer, another reason to look forward to going to work every day, and mental refresher of sorts.
Compared to the dungeon-like digs the Swans used to call home deep in the bowels of the SCG, a maze of corridors and cramped rooms that Longmire likened to a "rabbit warren", it's the most welcome of changes – but as he points out, the dumbbells and plates in the gym still weigh the same amount as they did there.
"To be able to walk into this was great – first day of pre-season in January, post-Christmas, to come back in here, the boys loved it," Longmire said.
"But you still have to sweat. When I was playing at North Melbourne, our gym was in a condemned grandstand with holes in the floor – it wasn't a deterrent for us.
"The reality is there's no advantage as far as getting wins. You've still got to work hard and do the basics. No one cares in the opposition if you've got a new facility or not. But hopefully, for the attraction and retention of staff, players and bigger-picture stuff, and the presence of the code in Sydney, I think it's important."
On Friday, the Swans will play their first opposed practice match of the pre-season when they face the Brisbane Lions across the road from their new HQ at Lakeside Oval, another recent addition to the Moore Park sporting precinct.
An unfortunate run with injuries means Longmire will not have his full complement available, with rucks Tom Hickey (calf) and Peter Ladhams (knee) facing a battle to be right for their round one clash against the Gold Coast Suns, but around 15 of Sydney's grand final team is expected to play some part of the game, including Lance Franklin.
"We've had a good run the last couple of years, but we've had some challenges in regard to player availability this pre-season, particularly in our talls," Longmire said. "We're hoping to be able to get some more back over the next two weeks."
Sports news, results and expert commentary. Sign up for our Sport newsletter.
Most Viewed in Sport
From our partners
Source: Read Full Article