Save articles for later
Add articles to your saved list and come back to them any time.
Fixture focus
The bottom three teams this year are so palpably worse than the rest of the competition it has distorted what is already an unavoidably unfair fixture.
This weekend it was two 70-point losses for each of West Coast and North Melbourne, and a nine-goal loss for Hawthorn. Just another week.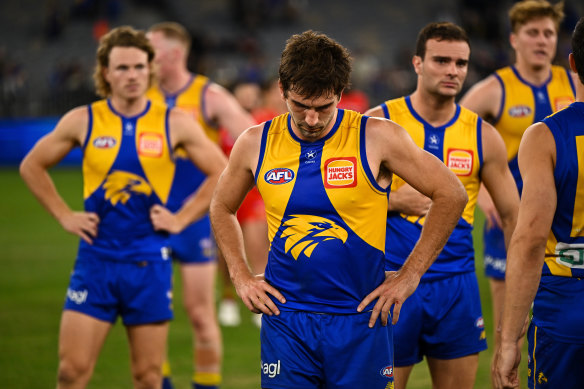 West Coast players after the loss to the Suns.Credit: AFL Photos
After their false dawns in the early rounds, North have lost by an average margin of exactly 10 goals for the last five games. Ditto West Coast, with an even 10-goal losing margin over the last seven matches. At least it's a nice round number.
Hawthorn had largely been more competitive without winning until a fortnight ago, but their last two games have blown out to 10-goal losses.
Mercifully, the Friday night double-header meant you stuck to watching the Richmond-Geelong game – which was a cracker – and went to bed ignoring the fact West Coast-Gold Coast was still going on. Well, they were still playing, the match was long since over. Just go to bed and pretend it never happened. (Poor Gold Coast even when they are good they can't catch a break).
This tune-out-and-pretend-it-isn't-happening approach has largely been how the rest of the competition has treated West Coast's awful season. The most financially powerful club in the AFL has dropped like a stone as a competitive force, and it has been largely overlooked on this coast because of, well, Carlton.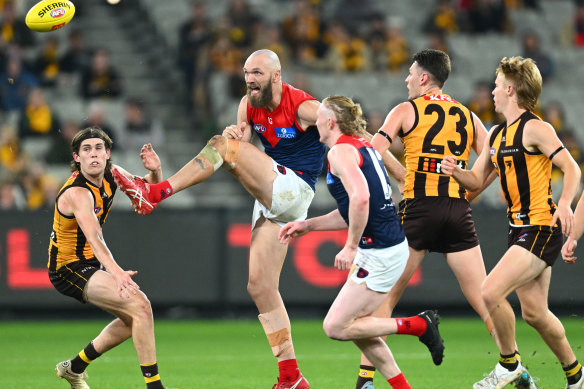 Max Gawn kicks during the Demons' win over Hawthorn.Credit: Getty Images
But beyond the Blues, there have been far more compelling story lines of relevant clubs, and West Coast has become irrelevant.
Unlike Hawthorn, whose drop down the ladder has been in the cause of expediting generational change, West Coast have become mired largely by trying to resist generational change. Now it is thrust upon them.
Yes, West Coast have an injury alibi. But so, too, do others. And theirs is only an alibi of sorts, for when you retain so many old players, you cannot be surprised when they get injured.
What this trio has done is warp the competition. St Kilda, Melbourne, Fremantle and Essendon have the luxury of playing two of these teams twice this year. So, too, do North Melbourne, in that they play both the other two clubs twice. But that cancels itself out a bit.
Hawthorn were 13th last year, and thus in the bottom six teams when they divided the fixture into the top, middle and bottom six teams to determine how many sides in each bracket clubs should play twice in the next season.
But that bracketing ignores what Hawthorn did in the off-season, which for strategic reasons meant that even if things went swimmingly, they'd find it hard to tread water and stay in 13th place again. Everyone, especially Hawthorn, knew this would be a tough year.
The fixture wasn't finalised until after all trades had been done, so the league could reasonably have considered the Hawks' prospects of improvement, much the same as they forecast who will be good and competitive when they plan potentially interesting Friday night matches for the broadcaster.
For Melbourne, in particular – and this is not their fault or is something they should apologise for – they have been gifted the best of this fixturing by getting to play two of the trio twice.
All of the better teams entering the season with realistic ambitions for the top four would pencil in the Hawthorn, West Coast and North games as three likely wins. Melbourne get to put down five. That is a good start when you want a minimum of 14 wins for top four.
The other downside to the fixturing is the fact we have to again witness a North-St Kilda game. As if enduring Ross Lyon and Alastair Clarkson (the architects of the famed Shame Game) a fortnight ago was not difficult enough, we can look forward to suffering through a second one this year.
Both coaches ended that game admitting it was even hard for them to watch. It should be a rule, like minimum breaks between games, that Lyon and Clarkson only coach against each other once a year in the regular season. It'd be best for all concerned.
Tigers looking like Tigers of old
The upside for Richmond of playing one of that trio – West Coast – was that they ran the Tigers into form. Richmond this week continued the form from that win against Geelong.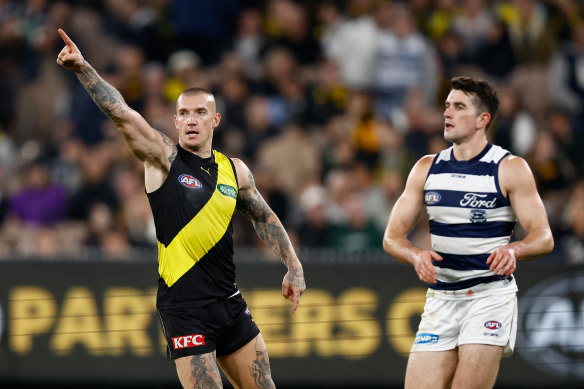 Dustin Martin showed his quality for the Tigers in their win over Geelong.Credit: AFL Photos
Undoubtedly, Richmond looked more Richmond than they have all year, as both coaches acknowledged after the game. Partly that was because their method looked like Richmond again.
They worked hard to adjust to combating Geelong's possession game, which was accentuated by having their best midfielders out. The Cats were playing a short kick-mark game to work the ball up the ground, until, in basketball terms, they could 'post-up' Tom Hawkins. It was very effective.
Nathan Broad and Jeremy Cameron on Friday night.Credit: AFL Photos
Richmond took time to adjust to push up hard at the man on the mark. They also had Nathan Broad follow Jeremy Cameron up field and pull numbers into defence to congest the space for Cameron – and others – to post-up Hawkins.
But the most critical features to come out of the game were that Dustin Martin played his best game in two years. Richmond's fortunes this season – and any season, really – would be informed by how good Martin would be. Could he get back to something closer to his best again. Until Friday, he hadn't been close. Friday was very close.
Maybe it was because Richmond looked like Richmond. Did he cause that, or did they bring it out in him? Chicken. Egg.
The other critical difference was the effectiveness of Trent Cotchin as a small forward. Who knew? It was a side of Cotchin's game not really seen before, certainly not to this level. He has kicked goals before, but they felt like midfielder's goals. These were genuine small forward goals. Whether we are talking about him this way as a small forward in a month's time will be the question but, for now, he showed something that will excite the prospects for Richmond.
Side note on Cats coach
Chris Scott was understandably pleased his injury-depleted side was in a position to win the game and was chuffed with the youth of his side, noting there were five players with fewer than 25 games in the team. It was actually four players who went into the game with fewer than 25 games experience for the Cats. Richmond had five.
But Scott should be applauded for calling out the nonsense of the idea that when one player goes out, another "soldier" just comes in and plays the role, and you expect the same things from them. Garbage. Yes, they play the role, they go to the right spots, but they don't play it the same way or to the same level.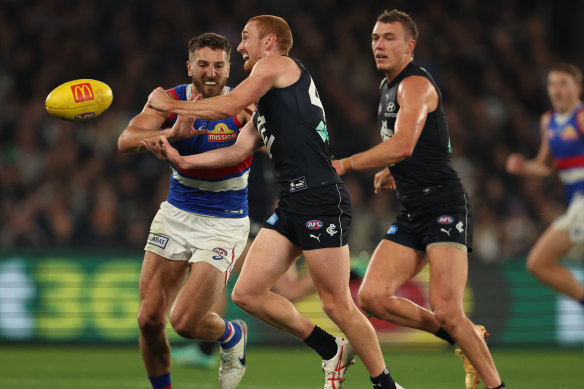 Matthew Cottrell of the Blues handballs as Marcus Bontempelli moves in.Credit: Getty Images
Blues' goal concerns
Carlton's propensity for around-the-corner shots for goal – Harry McKay (again), Jesse Motlop (fair enough where he was) and Patrick Cripps (probably wouldn't do it if he had his time again) – felt like a team uncertain of itself.
Maybe that is reading too much into those kicks, but across the field there was a feeling of uncertainty and fear of failure about Carlton's play. Carlton's shot-at-goal accuracy was the third worst for the round.
It was a carry-on from the way they had played recent weeks. Michael Voss, like his club, was feeling the heat. Bruce Mathieson had had his annual man-yelling- at-clouds moment this week, railing against everyone at the Blues as responsible for the team not being better.
The glass half-full view of the Blues' loss was the second half might have marked the change. Voss made a move – pulled his tall forwards up the ground and made his smalls the target. It unsettled the Dogs, who, to be fair, rallied and responded like a team of serious quality.
They looked a better team after half-time but conversion once inside 50 remains a concern – they scored a goal just 16 per cent of the time they went inside 50, which was the second worst of any side for the round.
Keep up to date with the best AFL coverage in the country. Sign up for the Real Footy newsletter.
Most Viewed in Sport
From our partners
Source: Read Full Article