Save articles for later
Add articles to your saved list and come back to them any time.
When the Formula One Grand Prix moved from Adelaide to Melbourne in the mid-1990s, it was a crippling blow to the psyche of South Australians. I know because I am one of them. Granted, I was in primary school at the time, so my memory's a little hazy, but I was still old enough to know it cut very, very deep. We didn't need another reason to hate Victorians.
Time, as they say, heals all wounds. Three decades on, as the city of churches basks in the afterglow of the AFL's Gather Round, you can barely even see the scar. Adelaide is buzzing. Victorians are everywhere, and they feel welcome. All nine matches were sold out. Everyone's happy. And now that this event has been locked in for another three years, thanks to a multi-year deal inked between the SA Government and the AFL, everyone's absolutely ecstatic.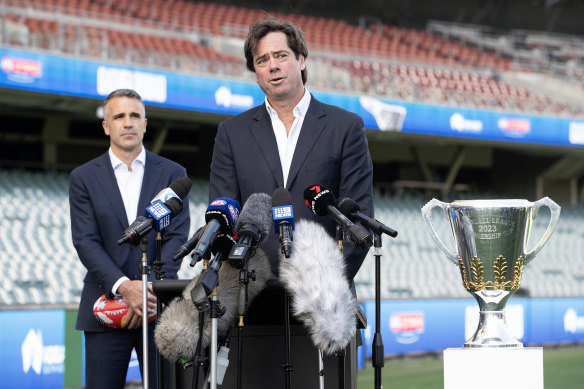 AFL chief executive Gillon McLachlan and SA Premier Peter Malinauskas have agreed to extend Gather Round's presence in Adelaide through to 2026.Credit: g
You could feel the locals getting anxiously protective before Sunday's announcement was made, as media types pondered whether it should become a travelling roadshow. They'd seen that movie before. "They already took the Grand Prix off us," said one caller on talkback radio on Sunday morning, who noted that the Boxing Day Test was also once rotated through Adelaide, before it became yet another fixed Melbourne sporting tradition. The hosts guffawed at the idea of Gather Round being held anywhere else, and particularly in Sydney, where support for the AFL is so-so at best, and not the social lifeblood like it is in the southern states.
It's worth remembering that Gather Round – before it had that folksy name affixed to it, ripped straight from the lyrical stylings of Paul Kelly, and before enthusiastic SA Premier Peter Malinauskas swooped in and snatched it – was originally conceived as an idea for Sydney, to help boost AFL in rugby league heartland. And it needs help.
Outside the admittedly large (and growing) inner-city bubble of well-heeled Swans fans who swarm the SCG, Surry Hills and surrounds every fortnight, the AFL can feel invisible, and often does. A decade into their existence, despite the many millions thrown at western Sydney over that period, the GWS Giants are struggling to pull a crowd; even News Corp executive chairman Michael Miller said recently he thought the expansion clubs were "going backwards". Lance Franklin is about to retire, and when he does, the whole sport will lose a bit of cut-through in Sydney. The AFL still hasn't quite worked out this unique market.
Gillon McLachlan has flagged the league's desire to take Gather Round elsewhere in the future, once they've "built out" the concept in Adelaide, but moving it anywhere will be a very hard sell. It's been a raging success in a city that seems as if it was almost built specifically for it.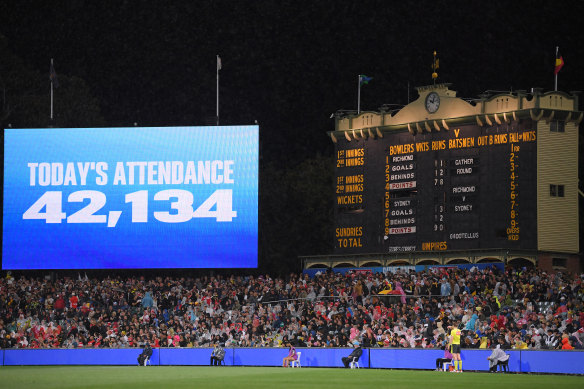 Sydney's match against Richmond at Adelaide Oval on Friday night pulled a huge crowd.Credit: Getty
Big enough to accommodate tens of thousands of interstate visitors, small enough for them to get basically anywhere they need to in less than 30 minutes, and centrally located so that it's not too far for anyone to travel, it has shown off the different faces of footy: the country charm of Mount Barker, the suburban timewarp of Norwood Oval, and the marvel that is Adelaide Oval, an ultra-modern stadium perfectly positioned in the CBD which has still somehow retained a sense of history and warmth. Next year, there'll be a game in the Barossa Valley. Heaps good, as they say in SA.
Malinauskas sees it as a tourism vehicle, a way to prove to the rest of the country that Adelaide has grown up, that the common jabs from the eastern seaboard and SA expats (like me) about it being a dead-boring joint with nothing to do are long out of date. It's working. And it feels as if it has already enriched the culture of the AFL; it's easy to imagine it becoming an annual pilgrimage for Victorians and an annual indulgence for locals. Nobody will want to change that now, even for bigger-picture strategic reasons.
What would it look like in Sydney? Nothing like this. Sure, it would enhance the profile of the AFL, but at some cost. Selling match tickets would be a struggle, for starters. Then there's the Easter Show, which takes Olympic Park out of action for the April school holiday period. Even if that hurdle could be cleared, there's the stadium issue: the SCG is fantastic, as is Giants Stadium, but Accor is incredibly unpopular with rank-and-file fans, and the next best ready-made option for the less popular games is way out in Blacktown.
And that's the other problem: Sydney is too vast, too sprawling, too segmented, making it almost impossible to replicate the homely feel of Adelaide this week. (South-east Queensland has the same challenge.)
For a few more years, at least, Gather Round is going nowhere, and that's the correct call – but that means it's back to the drawing board for the AFL as it seeks to invigorate the game in NSW. Let's hope they've got another belting idea like this one up their sleeves. Sydney footy needs all the help it can get.
Most Viewed in Sport
From our partners
Source: Read Full Article