Blake Ferguson has been arrested by Tokyo police after he was allegedly caught in possession of cocaine.
Japanese media reported police were called to a restaurant on Thursday after Ferguson allegedly punched a fellow patron in the Tokyo district of Roppongi.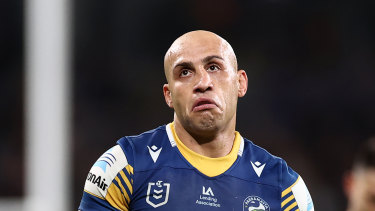 Blake Ferguson.Credit:Getty
The report said authorities searched the former Parramatta Eels flyer and found him to be in possession of cocaine.
Ferguson was subsequently arrested, putting his future at NEC Green Rockets in significant doubt. The former Parramatta winger was signed by the club's new director of rugby, former Wallabies coach Michael Cheika. Before departing the Eels, Ferguson told News Corp of his desire to play for the Wallabies.
The League One competition is due to start next month.
The NEC Green Rockets confirmed the arrest in a statement on their website.
"Blake Ferguson, a contract player belonging to NEC Green Rockets Tokatsu, was arrested on December 30 on suspicion of possessing illegal drugs," the statement said.
"We deeply apologise for causing a great deal of concern and inconvenience to everyone involved. Our team fully cooperates with the police investigation and strives to understand the situation."
Drug scandals are treated very seriously in Japan, which has a 'zero tolerance' attitude towards illegal drugs.
Japanese Top League powerbrokers suspended the competition last year when multiple players were charged with drug related offences, such is the seriousness with which these types of incidents are treated.
Drug possession charges can carry prison sentences in Japan. A handful of those players were given suspended prison sentences after being sacked by their respective clubs.
More to come
Most Viewed in Sport
From our partners
Source: Read Full Article