Viliame Kikau leaving Penrith with a second premiership was the perfect farewell.
However, there were fears his last game for the club could have come before the decider.
Kikau was almost a late scratching for the preliminary final due to an injury Penrith kept under wraps in their run to successive titles. The hamstring scare, which required Kikau to undergo a secret fitness test in the lead up to the penultimate clash with South Sydney, is one of the big reveals in All the Way: Panthers' Title Defence.
Nine Entertainment Co. – publisher of this masthead – was allowed behind the scenes for the three-part documentary series, which airs on 9Now on Sunday and on Channel Nine after Penrith's season-opening clash against the Broncos on Friday, March 3.
Narrated by Australian sporting icon Mick Fanning, the series provides a behind-the-scenes look at Penrith's play-offs campaign, including footage from inside the coaches box, the dressing-room celebrations and an emotional grand final jersey presentation.
The Panthers created history by defending their title in the grand final derby against Parramatta, but only now have some of the obstacles they faced come to light. There were serious concerns about whether Kikau would be available for the Rabbitohs encounter after he suffered a leg injury at training.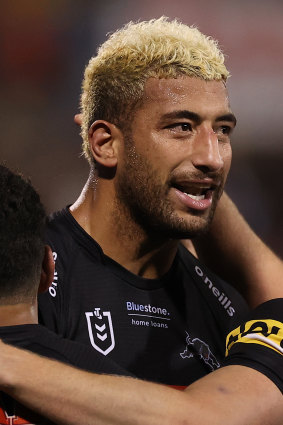 Viliame Kikau gave the Panthers a scare in their run to back-to-back titles.Credit:Getty
"They were training really well, the boys had got through, seemingly," Penrith's lead physiotherapist, Pete Green, said in the doco.
"Kiks was doing some high-speed stuff, some skills-based work and pulled up really lame. He grabbed the back of his leg, it was an upper hamstring-glute.
"Straight away, everyone's hearts sunk.
"We gave the big fella a bit of space just to walk it off before we got him in to ask what happened and assess him.
"It was very hairy at the time to see Kikau basically hit the deck, grab the back of his leg. It's never a good look."
Kikau wasn't able to rejoin his teammates for full training until he was able to prove his fitness in a secret solo session.
"As he went through that, we were concerned," Green said. "But we went off gut feel and we didn't think that he should go in today and open himself up to redoing it.
"However, the bonus was, towards the end of the session, he was feeling that good and that confident that he did end up joining the opposed cycle stuff they did, and he did some extras as well at the end."
Having got through the session, Kikau gave his teammates confidence that he would join them for the most important moments of the season.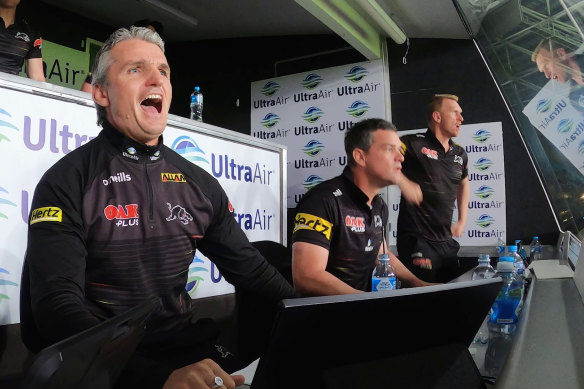 Footage from the Panthers' coaches box in the new documentary.
"It's just a little niggle, but it is what it is," Kikau said. "I'll do what I need to with the physios and be sweet to go."
The Panthers became just the second team in the NRL era to go back-to-back. Some critics said the players were disrespectful for wearing aviator sunglasses during the premiership celebrations, but the documentary reveals it was part of a Top Gun-themed campaign to glory.
Having used "Climbing Everest" as their mantra during the 2021 run to the title, the club tapped into Tom Cruise's Top Gun: Maverick sequel for their repeat triumph. Assistant coach Cameron Ciraldo provided the players with call signs and gifts to inspire their charge.
After beating the Eels, a teary Ciraldo, who has shifted to Canterbury to take up the head coaching job, gave an insight into how much the Panthers mean to him.
The new doco even offers glimpses inside the Panthers' team huddle
"This club has given me everything," he said in the doco. "I came here at the end of my [playing] career, not knowing what I was going to do after.
"Ivan [Cleary] gave me a chance as a player and then a chance on the staff. To see the family culture that him and Bec, his wife, have built here has been unreal.
"I've learnt so many lessons. But as with any family, you have to grow up and leave the house one day. That's what I've got to do. To leave after that win, which was so surreal, it's just amazing."
Panthers chief executive Matt Cameron said it was a privilege to provide footy fans a view into the inner sanctum.
"We are proud to share our journey and give fans an insight into what it takes to go all the way," Cameron said.
Nine Wide World of Sports' head of partnerships and strategy, Simon Fordham, added: "The Penrith Panthers' style of play, dedication to excellence and their abundance of characters across their squad makes this must-see TV."
All the Way: Panthers' Title Defence will premiere on 9Now this Sunday, February 26, with all three episodes.
Stream the NRL premiership 2023 live and free on 9Now.
Sports news, results and expert commentary. Sign up for our Sport newsletter.
Most Viewed in Sport
From our partners
Source: Read Full Article