Save articles for later
Add articles to your saved list and come back to them any time.
Was there a mix-up with the jerseys?
Going into this Rugby World Cup semi-final, all good rugby pundits – and me besides – knew that the Boks would knock England off their exceedingly low perch.
After all, this was the same Bok side that had destroyed the All Blacks a month ago, and beaten one of the best teams in the world, France, at home, by a point last week. And they were going up against an English team who had lost to Fiji at Twickenham two months ago, and struggled to beat Fiji just last week. Their presence in the semis, feels like a statistical anomaly.
The Boks, we knew, as perhaps the most physical team in the world. As for England, we sneered unpleasantly, and worse, in their general direction. They were only there because everyone else on their side of the draw had fallen over, and were not to be taken seriously as possible victors, by anyone but their mothers. Their fathers, quietly, probably knew better.
(Oh, stop it! Just this once, let it go?)
Which brings us back to the jerseys.
Pieter-Steph Du Toit of South Africa celebrates after the final whistle.Credit: Getty
For from the first minute it was the team in the white jerseys, England, who were the greatest physical force on the field, playing like, well, Springboks and continually bustling their shocked opponents off the ball, knocking them over in defence, and charging straight at them in attack. Time and again, the Boks took the ball into the maul, only to be hit by an English forward pack that stopped their momentum cold, turned them around, and either stole the ball, or stifled it and got the scrum.
The Springboks reeled, and England surged accordingly, knocking over two penalties to go to a 6-0 lead.
There is no greater feeling in the rugby breast than the one that comes when you look into your opponents' eyes and see, if not always fear, at least shock, and it always engenders the same response: "You think it's bad now, sport? Well, cop this!"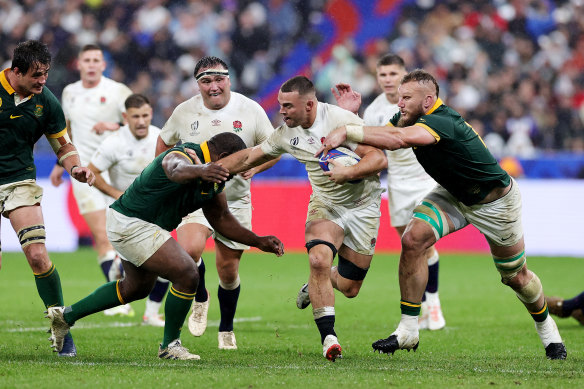 Ben Earl of England is tackled by Ox Nche and RG Snyman.Credit: Getty
And so it proved as the first half went on. Just when you thought England must inevitably fade, they only got stronger and more physical with the most emblematic moment coming in the second quarter when the diminutive English winger Elliot Daly charged after a high ball and knocked over the Bok no.8 who received it, Duane Vermeulen, with a superb tackle, driving him down into the turf for good measure.
"You think it's bad now, sport? Well, cop this!" A winger.
A further exchange of penalties meant it was 12-6 to England at half-time. Surely, though, England would fall over in the second half, as pedigree and rugby resumes would start to assert themselves?
Not a bit of it.
England only got better in the first fifteen minutes and when their fly-half and captain Owen Farrell knocked over a field-goal from at least 45 metres out, it really felt like we were in for an upset for the ages. England leading 15-6, a lead they still held with 14 minutes to go.
Could the Boks come back from here? Did we want them to?
The stadium was on England's side. Not just because there were so many English supporters here, but because England deserved to win, playing like this.
And the rugby gods were on England's side, too.
In so many of those 50/50 situations that rugby is filled with, where the ball could go either way, it felt like England were calling heads right at least seven times out of ten, and the Boks were getting the tails smacked accordingly.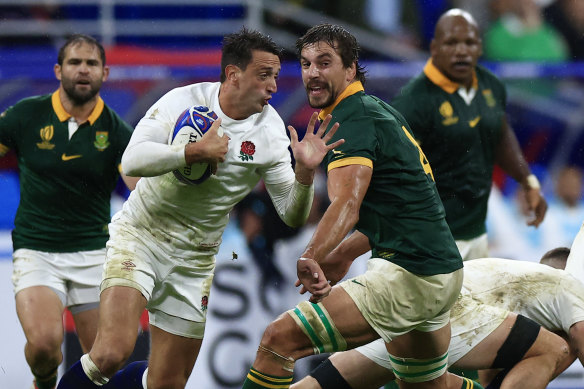 England's Alex Mitchell challenges for the ball with South Africa's Eben Etzebeth.Credit: AP
The atmosphere throughout, was glorious, with the packed stadium reverberating to cheers, chants and songs and it was never more electric than when the Boks lock Rudolph Snyman crashed over near the posts with 1minutes go, to make it England leading, 15-13.
What a set-up for the finish!
But now, friends, just like that, the rugby gods suddenly snarled on England.
Awarded a penalty from nigh on 50 metres out, back-up no.10 Handre Pollard slots it!
The Boks, with just a couple of minutes on the clock, hit the lead for the first time, 16-15. It is not right. They don't deserve to be leading after the game England has just played. It feels like a statistical anomaly.
Can England come back? In the absence of Jonny Wilkinson, they try for a try.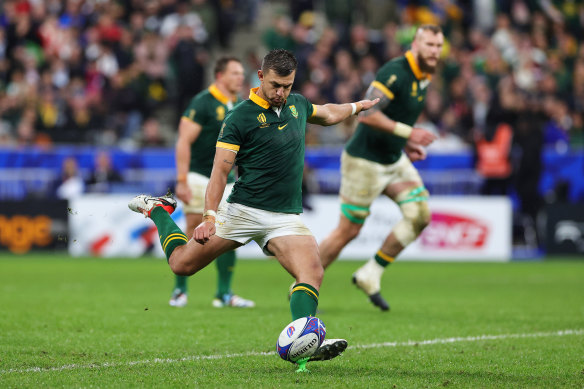 Handre Pollard of South Africa kicks the winning penalty goal.Credit: Getty
In the final minute they keep charging the ball forward and recycling it back, as the entire stadium is on its feet, but when a reserve forward spills it, the referee blows its whistle, and the game is over. Boks beat England 16-15.
It was a magnificent semi-final, in a great World Cup, and England deserved to win it for the way they played. The fact they didn't, sees a Boks-Blacks, all Southern Hemisphere final next week.
We can expect the Boks to be exhausted. They have had two successive one-point wins, over Ireland and England respectively.
My money's on the All Blacks. They just need to turn up in the right jerseys!
Most Viewed in Sport
From our partners
Source: Read Full Article