Sonny Bill Williams believes Eddie Jones needs to focus on recruiting Wallabies from the grassroots rather than chasing established NRL players, and the best place to do that is from public rather than private schools.
Jones has made no secret of his desire to poach the best players and coaches from the NRL and has begun the process with the appointment of former premiership-winning Wests Tigers fullback Brett Hodgson. Having lured Wendell Sailor, Lote Tuqiri and Mat Rogers during his first stint as Australian coach, Jones is expected to turn his attention to the likes of Joseph Suaalii, Cameron Murray, Tolu Koula and Adam Doueihi.
However, Williams, arguably the greatest cross-code convert of them all, said the Wallabies couldn't afford to rely on the sugar hit that NRL stars provide if they are to again become a rugby powerhouse.
"Eddie Jones is smart in understanding that you have to look at the grassroots," Williams said.
"Where are Australia producing most of their top rugby athletes from? That's from the school [system]. Where are Australia predominantly successful? That's coming out of the public school system, where you have more players to choose from.
"When I was in the Middle East they had all of these flash top-notch institutions, but speaking to their high-performance staff, they said they lacked one thing; the mentality of being able to push through adversity.
"I look at that, I look at where I came from and why Australian rugby league is so dominant, and it's because a lot of these players come from blue-collar households, from working-class families and struggle.
"It teaches you something, it hardens your shell. Eddie Jones understands that, he calls a spade a spade. Rugby is predominantly played by private schools here in Australia.
"You have to think outside the box to get different results. They haven't won a World Cup or even a Bledisloe for the last 20 years, you have to start looking outside the box."
Williams said the likes of Suaalii and fellow Roosters star Joseph Manu would excel in the 15-man game, but the focus needed to be on providing a pathway for talented junior players. To do that, it meant not relying so heavily on the traditional private school nursery and providing opportunities for youngsters from the public system.
"You have to start with the youngsters, you need a better pathway than they have at the moment," he said.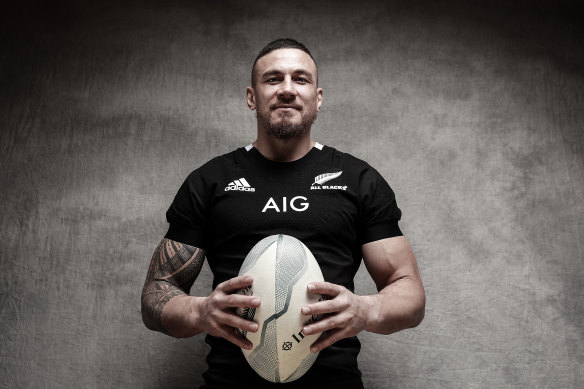 Sonny Bill Williams has some advice for Eddie Jones.Credit:Getty
"As a kid when you're coming from the struggle, you need to see a pathway, where the fruits of your labour will come from.
"For me, my [family] worked low-income jobs. What I did see was [an opportunity in rugby league].
"We are in a space where Aussies know what they want, but they need to see how to get there."
"They haven't won a World Cup or even a Bledisloe for the last 20 years, you have to start looking outside the box."
A Herald poll of NRL club chief executives and chairmen found that 80 per cent felt Jones and Rugby Australia posed no threat with their mooted league talent raid. Wallabies stalwart Quade Cooper was open to the prospect of going the other way, telling the Herald late last year that he would be open to a late career change if an NRL club was prepared to take a chance on him.
Williams hinted at the prospect of retiring after suffering his only boxing loss, at the hands of combat sports legend Mark Hunt. However, the former All Black is intent on returning to the ring this year.
"I always train, I train for life," he said. "I'm a very dedicated individual in myself and my craft, who I am as a person.
"I was always going to get back in the ring. It's one of those many lessons I've had in my life. Allah has blessed me with a long life, a very successful life.
"But when you fail at achieving your goal, that's when I've had the biggest learnings in my journey."
Most Viewed in Sport
From our partners
Source: Read Full Article