Players subbed out of the game with an injury should be unavailable to play for 12 days regardless of the nature of their injury, according to former AFL coach Rodney Eade.
Under current rules, players subbed out of a game with concussion are automatically unavailable for a minimum of 12 days. Players with non-concussion injuries can be subbed out if "it is reasonably determined the player will be medically unfit to participate in any match for at least the next 12 days".
The AFL is continuing to follow governance procedures, but industry sources said the threshold that allows a player to return after being subbed out for an injury other than concussion is low.
The numbers in 2022 suggest clubs are more willing to substitute players late in games if they are hampered by a relatively minor injury and inject a fresh player into the game without contemplating whether it is a 12-day injury.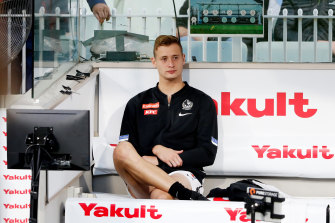 The substitute rule is meant to apply to players with injuries that would keep them out for 12 days.Credit:AFL Photos
Players are playing the week after being subbed out of a game with greater regularity in the first six rounds than they did in 2021, although the percentage remains relatively low at just under 25 per cent.
In 2021, there were only two rounds when more than 10 medical substitutions were made. There have already been three rounds this season when more than 10 medical substitutions were made in a round.
There has also been an increase in the number of substitutions being made in the final quarter in the first part of 2022 (36.5 per cent) compared to 2021 (29.4 per cent).
Eade, who coached 377 games of AFL across 17 seasons for three clubs before finishing up in 2017, agreed with the rationale behind a concussion sub being extended to a medical sub. But he believed consistency was needed in the way the rule is applied.
"They need to make it exactly the same rule as concussion. If you go off with a medical injury you don't play for 12 days," Eade said.
He said a club could then choose not to activate the substitute if a player's injury was enough to keep him off the ground, but minor enough that the club doctor thought he may play the next week.
If a player was removed from the game with an injury in good faith but made a quicker than anticipated recovery or the injury was not as bad as first thought, then the club would be required to gain an exemption from the league to play.
Eade said the league's alternative option was to just re-introduce the sub, which could be used at any time – a feature of the game that proved unpopular when it was in place from 2011 to 2015.
"They either have to do one or the other," Eade said.
He dismissed a suggestion to allow clubs to use a sub as they wished after three-quarter-time, as was made at a competition committee meeting last year, or when the opposition made their substitute, as Collingwood coach Craig McRae proposed earlier this month.
Eade said such moves would add unnecessary complexity to the game and sanctions could be put in place to ensure the rule wasn't rorted on grand final day.
He said attrition and having a player injured was just part of the game and that teams should not get an advantage if one of their players was injured late in the game.
"Sometimes that is the way it is. That is the luck of the draw and footy has always been like that," Eade said.
Keep up to date with the best AFL coverage in the country. Sign up for the Real Footy newsletter.
Most Viewed in Sport
From our partners
Source: Read Full Article