Save articles for later
Add articles to your saved list and come back to them any time.
It has been a difficult period for the NRL's joint-venture clubs, one Grant Mayer believes will continue well into the future.
"The Dragons and Tigers will never win a premiership in my lifetime," says Mayer, who was Wests Tigers chief executive a decade ago. "That's simply because of the structure of the organisations. Usually, it's one club versus the world; one club versus 16 others. However, the reality is you are still dealing with the internal issues on top of the external issues.
"There is so much internal bickering and concerns when things go wrong. I think that both clubs struggle with that almost every day. There are people constantly demanding answers as to why things aren't working.
"The ones that tend to cop it are the football departments. Every coach, every football manager, every recruitment manager I've worked with is busting their arse to get a performance out of their team, but it's not helpful when things around them appear to be fragile."
The latest clash of the merged entities, at Magic Round on Sunday, comes when the Tigers are at their lowest ebb. Last year's wooden spooners have dropped a further rung down the ladder to 17th. Tim Sheens' side enjoyed a breakthrough win against the premiers last week, but it was their first in 273 days.
The Dragons aren't faring much better, slumping to 15th spot to be in danger of earning their first wooden spoon. The Red V are at a crossroads; embattled coach Anthony Griffin won't be re-signed and is at lengthening odds to survive the season. What happens next could determine how prophetic Mayer's prediction is.
Wests Tigers players come to terms with another defeat at their spiritual home at Leichhardt Oval.Credit: Getty
Both clubs are the result of marriages of inconvenience. A rationalisation of the competition following the Super League war prompted several teams, fearing they would be culled if they tried to go it alone, to amalgamate. Manly and North Sydney became the Northern Eagles, an ill-fated marriage that was annulled shortly afterwards. Balmain merged with Western Suburbs to become Wests Tigers, while St George and Illawarra became the St George Illawarra Dragons.
During the past quarter of a century, they have both enjoyed just one premiership: the Tigers under current coach Sheens in 2005, while the Dragons saluted under master mentor Wayne Bennett in 2010.
Those glory days have proven the exception.
A Herald analysis ranking teams over the course of the NRL era, based on their annual average points since 1998, placed the Dragons eighth and the Tigers 15th, above only the Titans.
It is evidence that the amalgam of two clubs, particularly if one or both is struggling, does not result in the formation of a super club. In the case of the Magpies, they finished their existence in the big league with consecutive wooden spoons.
"The original joint ventures were brought about by financial necessity at a time when there wasn't as much money around the game and clubs were faltering," Dragons chairman Andrew Lancaster says.
"WIN was invited to be a shareholder of the Dragons four years ago to improve the club's governance and financial position … and we have achieved that. NRL clubs need to be strong from a financial perspective to be able to invest in their NRL structures, programs, pathways, and facilities."
Perhaps the lack of success is a merger hangover, one that doesn't affect standalone clubs?
"There's half-a-dozen clubs that have won only one premiership in the time since our club was formed and some that haven't won any," Lancaster says.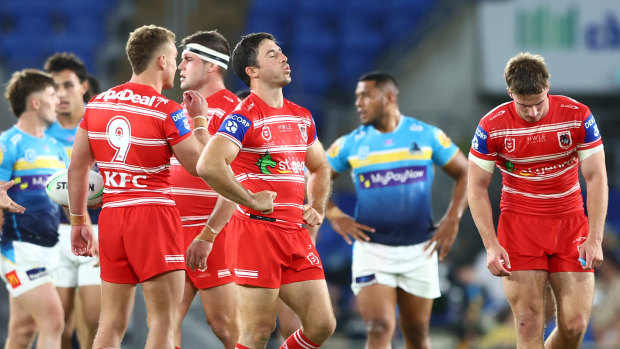 It has been another difficult campaign for Ben Hunt and the Dragons.Credit: Getty
"I can't see that being a merged entity has anything to do with either stat. The fact that only a handful of clubs have won multiple premierships in that time speaks to the strength of the competition and to how hard it is to win premierships."
Tigers chairman Lee Hagipantelis adds: "The joining of two foundation clubs does not necessarily create a super club.
"Expectations in the early days needed to be tempered. The fact they [Wests Tigers] won a premiership in their first five years may have exceeded expectations, but since then it has been a challenge.
"It's not reflective, in my view, due to the fact our club began life as a joint venture."
'If you are fighting against yourself, it's very hard to take that step and win a competition.'
Mayer, and many others, aren't so sure. The internal bickering and power struggles at the Tigers and Dragons hampered both clubs during their early existence. The current club chairmen are at pains to talk down a residual effect.
The Tigers started out a 50-50 joint partnership, but are now 90 per cent owned by Wests Magpies due to Balmain's inability to contribute financially.
When WIN Corporation purchased the Steelers' share in 2018, the Dragons agreed to rotate the chairman role every 12 months to placate both partners. The practice, long discarded by the Tigers, is one Lancaster admits is outdated.
"The chair rotation isn't best practice or very practical," Lancaster says. "We are addressing the issue."
Tim Sheens and the Tigers celebrate their grand final win in 2005.Credit: Craig Golding
There were also going to be initial teething problems, including identity issues and factionalism, when four clubs became two. One former Red V powerbroker, speaking on the condition of anonymity, believes they still exist to some extent today.
"A lot of that has dissipated because of WIN coming in, and it's not the Steelers," they said.
"However, I do feel there is still a Wollongong versus Sydney element to our organisation. We need to define what it means to be St George Illawarra. What is our common denominator? That's why it's imperative that we rectify on-field performance, but for the longevity of the organisation we need to really define our culture."
Lancaster believes the Dragons know what they stand for and that power players have been left in the rearview mirror, to the point that references to merged clubs are now inappropriate.
Wayne Bennett has won seven NRL titles, including this drought-breaking premiership with the Dragons in 2010.Credit: Wolter Peeters
"The 'joint venture' term is dated and reflects what happened after the merging of two clubs a quarter of a century ago," he says.
"The Dragons are one club, with two shareholders who may come from very different backgrounds, but share the same desire as our fans, members and partners – to see the Dragons winning NRL and NRLW premierships."
As it stands, the Tigers and Dragons are a long way from contesting a finals series, let alone being a premiership threat. Mayer, who also endured altogether different political challenges during his stint as chief executive of the Manly Sea Eagles, believes success will elude both.
"The first piece of success is to have unity across the joint-venture partners to truly allow one club to exist," Mayer says. "The geographical spread of the clubs is just too broad for any one organisation and administration to manage.
"The demographics alone in that space are worlds apart. The way you speak to and engage with your fans is different in Wollongong to Kogarah.
"The administration teams alone need to double to create buy-in and a feeling of engagement with their club when they are spread over such a vast distance. It's just impossible.
"The reality is clubs are built these days to win competitions – that's what they are there for. If you are fighting against yourself, it's very hard to take that step and win a competition.
"Both clubs have had an interesting journey, both have had to sell their soul to a certain degree."
Stream the NRL premiership 2023 live and free on 9Now.
Sports news, results and expert commentary. Sign up for our Sport newsletter.
Most Viewed in Sport
From our partners
Source: Read Full Article