Save articles for later
Add articles to your saved list and come back to them any time.
Nelson Asofa-Solomona chortles when you bring up the haymakers he infamously threw outside the La Favela nightclub in Bali.
"My left shoulder has not been the same ever since," Asofa-Solomona said.
For most sports fans, this is the only vision they have ever seen of Melbourne's big bopper throwing hands. The scene was a popular nightspot in the Balinese beachside suburb of Seminyak, after witnessing an unprovoked attack on his mate and then Storm teammate Suliasi Vunivalu.
"It was just one of those things, you get a bit of alcohol in you and you're just swinging from the rafters," he said.
"It is, it is what it is, obviously that situation. With the punches, I don't think one of them landed, to be honest.
"I'd do that for anyone I travel with. You travel together, you look after each other. Obviously, emotions were involved and it is what it is."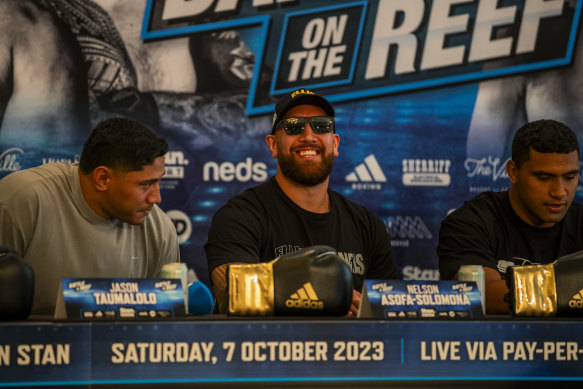 Nelson Asofa-Solomona ahead of his fight at the Battle on the Reef.
So, can we expect something similar, when "NAS" – all 200 centimetres and 130kg of him – makes his boxing debut against fellow footballer Jarrod Wallace at the Battle on the Reef in Townsville on Saturday night?
"What you see in that vision, it's gonna be far from what you see on Saturday," Asofa-Solomona said.
Nelson Asofa-Solomona's clash with Wallace is part of a busy fight card, available live and exclusive on Stan Pay-Per-View this Saturday night from 6.30pm (AEDT). The giant prop promises to bring precision to go with power to honour his late father, Vasa, who introduced him to the sport as a 12-year-old.
"My dad got me into boxing and my dad passed away in 2021," he said.
'I love boxing, I'm passionate about it. It makes me feel alive.'
"He did a bit of boxing back in Samoa, he got me into it and I just want to keep his spirit alive by honouring what he got me into.
"He would be proud of this, it's not an easy path. My dad will be looking down, and he'll be very proud."
The early boxing sessions didn't last long, however. After a month of tutelage in a Wellington gym, Asofa-Solomona's trainer felt he was ready to face his son. The sparring session – and any subsequent workouts – ended after the newbie blooded his opponent's nose.
"It was a quick career," Asofa-Solomona quipped.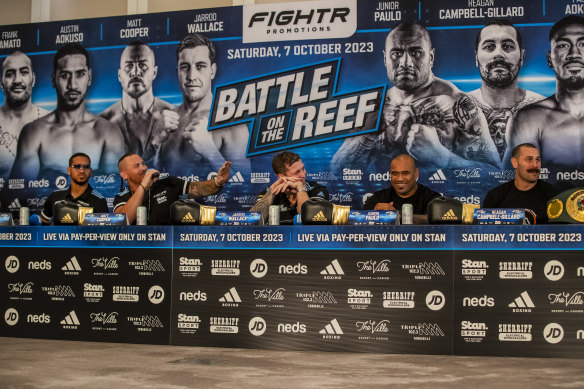 There was plenty of talk at the Battle on the Reef press conference on Thursday.
This could be a second coming. Paul Gallen's retirement, coupled with the winding down of the boxing career of Sonny Bill Williams, will leave a void.
Asofa-Solomona, possessing a personality as big as his frame, is ready to fill it.
"Plenty of boys here [on the card] can take that role and I believe I can take that role as well," he said.
"I'm pretty confident in my skills and I believe in myself and that's what you have to do to get to the top level.
Battle on the Reef fight card
Paulo Aokuso v Gabriel Omar Diaz for the IBO Intercontinental Light-Heavyweight Title​
Jason Taumalolo v Reagan Campbell-Gillard (heavyweight)
​Tevita Pangai Junior v Frank Amato (heavyweight)
​​Nelson Asofa-Solomona v Jarrod Wallace (heavyweight)​​
Junior Paulo v Ben Hannant (heavyweight)​​
Justin Hodges v Matt Cooper (heavyweight)​​
Jermaine Pangai v Nepote Dawadawa (heavyweight)​
Austin Aokuso v Filimoni Naliva Jr (cruiserweight)
"I love boxing, I'm passionate about it. It makes me feel alive, we're all chasing that high and I believe I can try to make a career out of this after footy."
Any nerves ahead of his debut?
"The first time you jump into the ring, the first time you do anything, it's always a bit nerve-wracking," he said.
"You build it up in your head, and sometimes it might not be exactly what you think it is. The fantasy might be better than what it is in reality.
"I respect the sport, I've done the time, and you're gonna see what I've worked on."
Wallace, the man who will be standing in front of "Big Nelson", is unperturbed about taking on the NRL's biggest man.
"It's just further for him to fall down," Wallace said.
"I know he's going to throw hard punches but at the end of the day my fitness will outdo him. I don't think any of his punches are going to worry me. I got headbutted on Monday by Ben Hannant, so if I can take a headbutt from the 'Polar Bear', I can take a punch from Nelson."
One of the other headlines, Tevita Pangai jnr, who will face Frank Amato in his first fight since quitting rugby league, took aim at his critics.
"I'm just here to prove all my doubters wrong, all my haters wrong," Pangai Junior said.
"They're all trying to tell me what to do. All the people in the media are trying to tell me what to do. I do what I want to do.
"I'm my own boss. That's why I left. I'm sick of taking orders off halfbacks and coaches. I do what I want to do."
Order Battle on The Reef, live & exclusive on Stan Pay-Per-View this Saturday night from 6:30pm AEDT.
Most Viewed in Sport
From our partners
Source: Read Full Article