Xavier Coates has lived the public life as a Brisbane player in the heart of rugby league territory and embraced being an anonymous figure since joining the Melbourne Storm.
So, the Queenslander speaks with authority when he says teammate Cameron Munster may not be ready for what would come his way should he return to Queensland and sign on with the Dolphins for 2024.
Munster's potential recruitment, despite being under contract until the end of next season, has been a constant talking point this season, especially as he continues to dominate games for the Storm.
But Coates admits the Rockhampton native will catch plenty of eyes should he move to Brisbane after a decade living in Melbourne.
"Oh, definitely. I think it's a lot different up in Queensland," Coates said when asked if Munster could be in for a shock playing week-to-week in an NRL city.
"But whatever Cam chooses, do all the boys are here will support him and he's made a big mark in the Storm's history."
Coates has quickly won over fans and teammates with his form in the opening month of the season and is set to play his first Anzac night game against the Warriors at AAMI Park on Monday.
While Coates didn't mind being the centre of attention at the Broncos, he has enjoyed being part of the crowd settling into life in the suburb of Richmond, like many of his teammates.
"I've had a couple of people here and there notice me, there are definitely day-one Storm supporters that float around but not too many others," Coates said.
"I don't mind both [cities] but it's obviously a bit of a refresher to live a normal life. Especially after you play a game, you can get away from footy and do whatever you love doing."
The Storm players spent time at the Shrine of Remembrance in Melbourne this week before Monday's game and Coates is fired up to play in the annual rivalry game between the two clubs.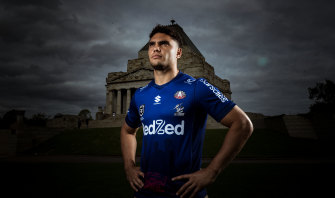 Xavier Coates was moved by a visit to the Shrine of Remembrance in Melbourne on Thursday.Credit:Getty
Storm captain Jesse Bromwich returned to training on Thursday after battling COVID-19 and has been named him in the squad to play on Monday, while his brother Kenny is due to return to training in the next day or so.
"I can't wait to get out there – I love that sort of rivalry game," Coates said.
"I haven't been a part of a rivalry like this, especially in an Anzac Day game, so they'll definitely be a lot of heart being played out there on the field."
Coates has enjoyed heading to some different sports during his time in Melbourne and his highlight so far was being courtside to watch NBA championship winner Matthew Dellavedova playing with Melbourne United.
However, he is yet to settle on a favourite AFL team.
"I haven't done it yet and I'm so nervous about it," Coates said with a laugh.
"I don't want to pick wrong because you can't go back, so I'll have to see about that."
In other Storm news, Channel Nine reported on Thursday night at the Storm has signed forward Tariq Sims from St George Illawarra for next season.
https://ededdneddy.org/soccer/carragher-says-liverpool-never-stooped-that-low-after-man-utd-embarrassment/
Nine also reported there was a possibility a deal could be made to allow Sims to join Melbourne this season.
Stream the NRL Premiership 2022 live and free on 9Now.
Most Viewed in Sport
From our partners
Source: Read Full Article