Save articles for later
Add articles to your saved list and come back to them any time.
Nathan Cleary reckons, in the space of one game, he produced his best and worst football.
The Penrith playmaker concedes that when the contest was getting away from him in the 2020 decider against Melbourne, he was "rattled". This grand final seemed to be heading in the same direction when Brisbane led 24-8.
Up until that time, Cleary was, by his own admission, off his game. Asked if he produced the best 20 minutes of his sterling career at the end when it counted, the halfback replied: "Well, I think the 20 minutes before it was close to the worst I've ever played.
"It was nice to finish on a high, I guess. To be honest, my experience from the past, particularly that 2020 Storm grand final helped me to be in the game at the end of this one.
"Sometimes things feel shit at the time, like it did in that 2020 game, but it's made me who I am today."
Panthers coach Ivan Cleary, even when the game was seemingly slipping away, never gave up hope. Asked if he felt his side was done, he admitted: "A fairly big part of me was leaning that way, but one thing I'll never doubt is the ability of these boys to keep fighting.
"It's just one of those games where you get one back and things can change."
Change they did. After mounting the biggest comeback in grand final history, the Panthers become the first team to win three straight titles since the great Parramatta side of 40 years ago
"That's totally surreal, I don't know how to explain that," Ivan Cleary said.
"Obviously, that great Parramatta side, that wasn't actually the NRL era. Things were different, it was just pretty much a Sydney comp back then. I'm not taking anything away from what they did, obviously.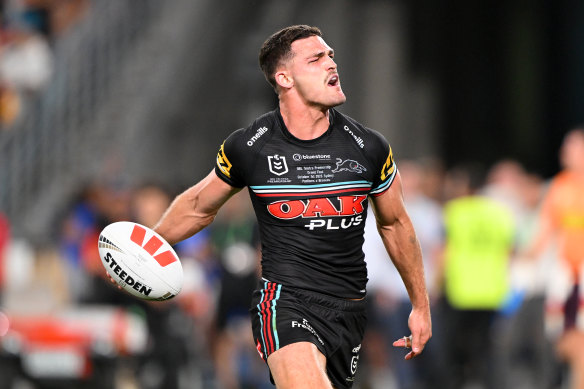 Nathan Cleary of the Panthers celebrates scoring a try.Credit: Getty
"We're not here to try to explain where we sit in history. I think we'll be able to reflect in the next few days. It's been a pretty remarkable achievement and we're super, super proud of it."
Brisbane coach Kevin Walters was struggling to make sense of what transpired in the final, frantic moments.
"There's no emotion there, it's very quiet," Walters said of his Broncos dressing room.
"It's hard to get your head around what actually happened. Very disappointing. I feel for all the players who gave so much. It just wasn't enough in the end.
"Nathan Cleary was pretty good too, to be fair, at the end of the game.
"I thought the whole stadium felt we had done enough, except for a few people.
"It's something we can get better at next year, certainly. But right now it's a pretty empty feeling."
It has been a difficult 24 hours for footy fans north of the Tweed after the Lions also lost the AFL grand final in a thriller.
"I'm OK myself, I just feel for the boys in there who gave so much," Walters said.
Not just tonight but the whole season. I watched the AFL grand final yesterday and thought that's a bad way to lose, for the Lions. And now here I am sitting here in the same situation really."
Walters paid tribute to a Penrith side he felt was one of the greatest he has ever witnessed.
"We should have won that game and didn't. Hats off to Penrith," he said.
"That's where we want to get to. Sometimes the football gods take things away from you."
Nathan Cleary was still soaking up the moment, while also dreaming of what lies ahead.
"The best thing about going three in a row, it gives you the opportunity to go for four," he said.
Sports news, results and expert commentary. Sign up for our Sport newsletter.
Most Viewed in Sport
From our partners
Source: Read Full Article