Giants coach Leon Cameron has described the next month as a defining period for the club after they were thrashed by Melbourne by 67 points at the MCG on Saturday night.
The Giants will welcome back co-captain Toby Greene, who was suspended for making contact with an umpire last year, for Friday night's crucial clash in Canberra against St Kilda.
The Giants were struggling for answers on Saturday night.Credit:AFL Photos
But Cameron said the return of Greene is not a panacea for the Giants' woes, stressing there were senior players who had played well below their best so far this season.
"The next month is going to be a really defining month for us as a footy club," he said.
"There will be an opportunity for younger kids … but equally you want your older players and your leaders, who are a little bit off their tucker at the moment, to fight their way out.
"We are not going to shy away from that."
Out of contract at the end of this season, nor did Cameron exempt himself from those under pressure at the 15th-placed Giants, who have just one win to their names from five matches so far this season.
They face the Crows in Adelaide and Carlton at Marvel Stadium after their clash with the in-form Saints on Friday.
"The next month is going to be a really defining month for us as a footy club,"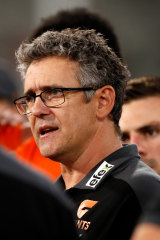 The spotlight is on Leon Cameron and his senior players after a heavy defeat in Round 5.Credit:AFL Photos
"If I sat here and said there was no pressure on a senior coach, I'd be lying to you, wouldn't I?" Cameron said.
"There is pressure everywhere, whether you win or lose. Is there going to be more scrutiny on us next week? Absolutely.
"If I am asking my players not to shy away from it and to hit it head on, then it would be pretty ordinary if the coach does not [as well].
"I have been there a number of years where we are in similar positions, a bit off our tucker and down on form, but I will back myself in and back my coaching staff in to do that."
The Giants' coach said Greene has trained particularly well but noted that it would be asking a lot of the star to expect him to perform at his best immediately.
"I was looking at Taylor Walker and he seems to have hit the ground running after a couple of weeks out, so fingers crossed Toby can do that," Cameron said.
"But, look, we can't expect miracles. He has not played a game yet. Clearly we all know he is an energiser for us, so that will be a lift, but if we think that Toby is going to be the difference next Thursday night … this is a club thing."
Christian Petracca was at his rampaging best against the Giants.Credit:AFL Photos
Cameron placed the Demons, who have now won 12 matches in succession in a streak dating back to Round 20 last season, in the rarest of company in their current form.
The reigning premiers play Richmond, who had won three of the previous four flags, at the MCG next Sunday night.
"Sides come along every year, and we saw Richmond at the very best for five or six years, and Melbourne are in that sort of spot at the moment," Cameron said.
Demons coach Simon Goodwin was particularly pleased with his side's defence as they again stifled a rival early before running away with the match after half-time.
"As I have said a few weeks in a row now, I think the foundations of our game are in really good shape defensively," he said.
"That is giving us the opportunity that, when our time comes, to maximise that opportunity and to try and break away in the game. It is really important, the first part."
Melbourne's only concern is defender Jake Lever, who limped from the field late in the first half for treatment, and was later pulled from the match with the Demons well in control.
Lever missed the first three weeks of the season with plantar fasciitis and, while Goodwin said the issue did not relate to that problem, they decided to take no risks.
"He has just rolled his ankle. He has eight days now to get it right. It was more of a precaution to bring him off late," Goodwin said.
"He is a pretty important player to us, Jake, and he has obviously had some issues around that foot, so we wanted to make sure he didn't do any more damage in that space."
Keep up to date with the best AFL coverage in the country. Sign up for the Real Footy newsletter.
Most Viewed in Sport
From our partners
Source: Read Full Article