Jason Castagna was as emblematic of the Richmond triple premiership team as Dustin Martin.
Ordinarily there is not a lot of scope for comparing Martin and Castagna as footballers, but here goes.
Jason Castagna celebrates Credit:Getty
Martin plays as if he has never entertained the idea that there was anything he couldn't do on the football field. Castagna played as though he understood perfectly what he couldn't and shouldn't do, but also knew what he was there to do.
And yet they were equally important, in their own ways, to what Richmond achieved.
Yes, with two Norm Smith medals and a Brownlow, Martin contributed more than any player to Richmond's success, but Castagna epitomised the other half of Richmond's game and structure.
He was the archetypal role player. He was as much a foundation of how Richmond played as dynamic players like Martin, Jack Riewoldt, Tom Lynch, Nick Vlastuin, Alex Rance and Trent Cotchin.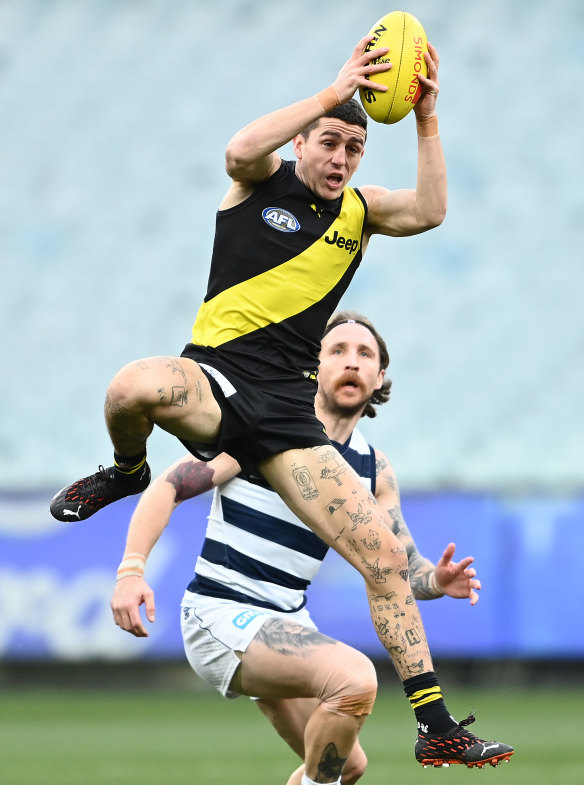 Castagna takes a mark against the Cats in 2021Credit:Getty
He was loved by coaches and teammates for what he could do, not what he couldn't. He was never going to be Eddie Betts, but he came to represent a type of modern small forward whose game was founded on pressure, not opportunism.
He made the opposition dispose of the ball a half second sooner than they wanted to, and this helped create turnovers near Richmond's goal. The Tigers' game, like Castagna's, was predicated on turnovers. When they won flags, they were the No.1 turnover team in the AFL.
Castagna made a career out of being quick and working hard. He tackled hard, he put pressure on, and created goals for himself and others just by worrying the ball back into Richmond hands. He was cheap in draft and salary cap terms, but he was important in structural terms.
He emerged as part of that happenstance structure Richmond fell into in 2017 when injuries forced a new method and system. Richmond crafted a new attack built around Riewoldt and a bunch of small and medium forwards with speed and enormous pressure.
Because he was a player of limitations he was a regular whipping boy for fans (as small forwards often are). Kicking five straight behinds in the 2019 grand final, of course, didn't help, but the same fans adored him for those flaws and what he meant to Richmond. His snap goal in the 2017 grand final was a moment that made the drought-breaking flag seem assured.
If fans were quick to blame Castagna at times, his teammates certainly were not. They loved the player with one of the best nicknames in football – George. Amusingly, Castagna had never watched an episode of Seinfeld when he got to the club and his teammates started to call him George after the Seinfeld character George Costanza. He laughed along, bewildered at how his new teammates were so thick as to confuse Jason with George.
When he announced his retirement at Punt Road on Monday morning, his former teammates and close friends Dan Butler, now at the Saints, and Dave Astbury were in the room. Castagna famously carries a tattoo on his buttock of Butler's initials and a table tennis paddle after he lost a marathon match to his housemate.
In terms of recruiting decisions, Castagna must be one of the most fruitful selections. From a second round rookie draft pick (29) he played in three premierships, barely missed a game through injury, kicked nearly a goal a game (127 goals in 134 games), never gave the coaches grief and never did anything to embarrass the club. And two Brownlow votes!
He played more games than any player on Richmond's list from 2017 to the end of 2021.
That all made Castagna's decision to retire at the age of 26, just 18 days out from the new season, so surprising.
He has walked away from a solid contract, but the money never motivated him. He walked away because he thought it would be selfish to just go through the motions.
As he said to people at the club, this was the first pre-season in which he didn't complete the summer program that the conditioning staff had mapped out for players on their break. He didn't do it for any reason other than he just didn't want to. He realised then that he was done.
Castagna has no immediate plans other than to do something more with tattoos and play basketball with his mates.
He leaves list manager Blair Hartley wondering about options to replace him. The Tigers really liked former Cat Quinton Narkle over the summer, and he is a logical choice for the mid-season draft.
Whoever it is, Richmond won't be quite the same without George.
Keep up to date with the best AFL coverage in the country. Sign up for the Real Footy newsletter.
Most Viewed in Sport
From our partners
Source: Read Full Article