Save articles for later
Add articles to your saved list and come back to them any time.
Snap Shot is a weekly column taking a look at the lighter side of football.
Adding to the surprise of seeing James O'Donnell make his debut for the Western Bulldogs barely a month after being added to the club's list as a category B rookie was the fact he was wearing No.18.
After all, we're used to category B rookies rocking numbers in the 40s. The highest achieving category B rookies, Collingwood's Mason Cox and Geelong's Mark Blicavs, have taken the No.46 jumper to heights it has never been before.
So Snap Shot made a few enquiries and discovered it was just a case of the number being available with O'Donnell literally told to "take your pick" when he arrived at the club.
He chose 18, a number Leon Cameron and Simon Beasley wore with distinction at the club and one Louis Butler left vacant when delisted at the end of last season.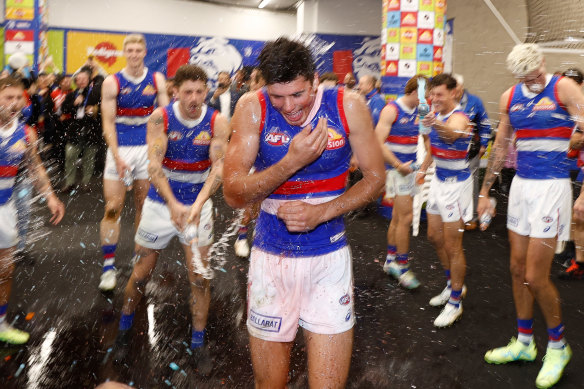 James O'Donnell celebrates a win with the Western Bulldogs after his first AFL game. Credit: Getty Images
Little did O'Donnell know, however, what a good choice he made.
St Kilda historian Russell Holmesby confirmed on Tuesday that O'Donnell's grandfather Kevin, a handy half-forward/wingman in 49 games with the Saints, had worn No.18 in his final two seasons with the club in 1948 and '49 after playing in No.7 in his first two seasons from 1946-47.
All of that was news to the most famous of the O'Donnell clan – former Saint and Test cricketer Simon – who had an old jumper of his father's that had No.47 on the back, which he now thinks might have been a training jumper. He admitted he had no idea his father had also worn No.18.
The revelation kept the fairytale going for a family still coming back to earth from the joyful experience they had last week.
Coincidentally, Kevin wore No.18 for the first time in round one, 1948, against Footscray as Bulldogs 1954 premiership player Dave Bryden wore No.18 in his eighth game for the club.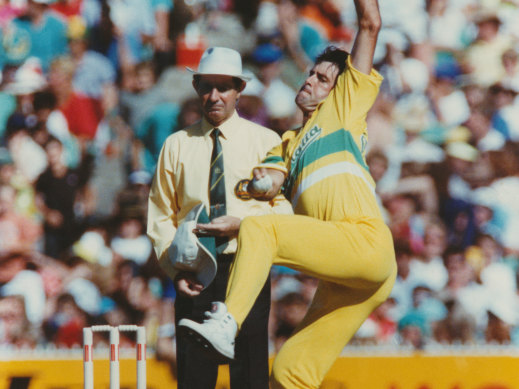 Simon O'Donnell playing cricket for Australia in 1990.Credit: The Age
Harmes' way
Carlton legend and Norm Smith medallist Wayne Harmes described Monday as "myth-busting day" after Richmond historian Rhett Bartlett revealed previously uncirculated ABC footage from the 1979 grand final.
The slightly different camera angle appeared to show the ball being definitively inside the boundary line when Harmes famously thumped it back to the goal square after chasing down his own kick late in the tight match against Collingwood. Ken Sheldon was on the spot to kick a famous match-winning goal.
Harmes joked to Snap Shot that the new footage might diminish the number of requests he gets to do sportsmen's nights, where he famously asks anyone who wants to know whether the ball was in which team they barrack for before answering. If they barrack for Collingwood, it was out. If they barrack for anyone else, it's in.
Of course no footage will change the result, although the evidence to end the debate is building. An image circulating on the Facebook page "VFL in the '80s" appears to show a metre between the ball and the boundary line as Harmes dives for the ball. Harmes has seen that image too as the story of that moment never dies, with Snap Shot attempting to contact the convenor of that site for an update on where that image arose.
On the coach's whiteboard
Before you go, here are …
Seven of the best lines from CBS' 60 Minutes report on Collingwood's Mason Cox that was shown to an estimated audience of 13 million viewers.
Mason Cox was at his best against the Giants.Credit: AFL Photos
They said
"It's either unjust or the fabric of the game is getting challenged." – Melbourne coach Simon Goodwin in response to Jacob van Rooyen's suspension.
But they forgot to say
"It's either unjust or the fabric of the game is getting challenged, and we think using emotive phrases will help get our best forward off because the AFL appeals board's recent record of seeing the big picture when under pressure is not great."
Keep up to date with the best AFL coverage in the country. Sign up for the Real Footy newsletter.
Most Viewed in Sport
From our partners
Source: Read Full Article