Save articles for later
Add articles to your saved list and come back to them any time.
Changes to Australian rugby are badly needed – and they've already started. Here are seven ways the sport can climb back off the canvas.
1. Hire Dan McKellar
The Wallabies' underperformance at the Rugby World Cup is a different issue from the "system" issues that exist in Australia. They'll take longer to sort out but hiring the best coach is clearly the first step to getting the Wallabies back on their feet. McKellar, who has just started the English Premiership season with Leicester, would take a bit of persuading to return.
Let's be fair dinkum about this – he's coaching Handre Pollard, Jasper Wiese, Juan Montoya, Freddie Steward and others at one of the traditional powerhouses of European rugby: it's not easy to walk away from that into a dumpster fire. And, even if he does want to return, it'll cost Rugby Australia, whose "no payout" line about Eddie Jones rings a little hollow given that they had to pay out Dave Rennie on top of any McKellar release fee.
But, McKellar is the man for the job because he understands what actually works in modern rugby. While Eddie Jones is trying to reinvent the game, McKellar pays homage to its fundamentals: set-piece and defence. If it's not McKellar, then Ian Foster becomes an option – if he can persuade his mate Joe Schmidt and possibly Tony Brown to come with him.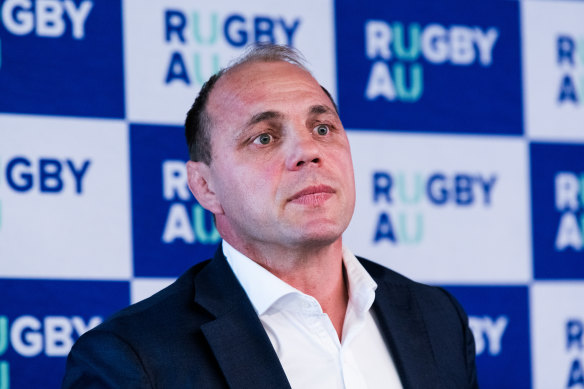 Rugby Australia CEO Phil Waugh.Credit: James Brickwood
2. Listen to the outside voices who aren't nodding dogs
Former Wallaby Ben Darwin is highly respected in New Zealand for his work on cohesion analytics but seems to struggle to get a hearing at Rugby Australia. The Crusaders swear by Darwin, and the Herald understands that New Zealand Rugby has also been very open-minded to his ideas around what makes a successful sports team.
Rugby Australia doesn't need to implement every little thing Darwin says, but they do need to listen to him – especially as he will tell them things they don't want to hear. Any credible organisation must be prepared to put their hands up and admit they don't have all the answers – and there are also analytical firms in the UK – similar to Darwin's crew – who are sitting on a trove of data that will tell Rugby Australia where the issues are.
3. Ditch the NRL 'hitlist'
Roll it up in a ball, throw it in the bin, douse the lot in petrol, set it on fire and throw it off a cliff. That's the only way to deal with the whole business of league recruits. In any case, the entire pitch has been wrong. Rugby Australia should be telling NRL players they would be safer taking the money in a domestic competition, playing against blokes of similar attributes, rather than actually challenging themselves against the big South Africans or best New Zealanders.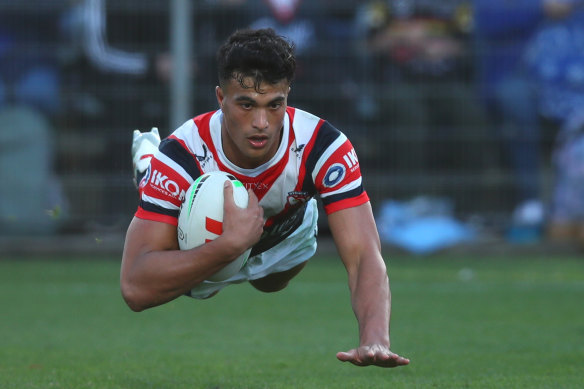 Rugby-bound Roosters star Joseph Suaalii.Credit: Getty
That would light a fire in any of them brave enough to switch. Otherwise, forget about rugby league and put your time and money into the Jack Barretts and Massimo de Lutiis' of this world.
4. Empower Phil Waugh
Whether Hamish McLennan stays as chairman or not would appear to depend on whether he is prepared to take more of a backseat role. He can't be near any high-performance decisions after the sacking of Dave Rennie and the hiring of Eddie Jones months out from a Rugby World Cup, but the board must also now decide whether sponsors, broadcasters, state government allies, prospective Wallabies coaches, the Super Rugby clubs and so on feel McLennan is part of the solution or an impediment to moving forward.
Waugh has been thrown into the fire in his first months in the job and is in an incredibly difficult situation, but he has shown signs that he can grow into a capable CEO and effective operator behind the scenes. He has to be the boss from now on.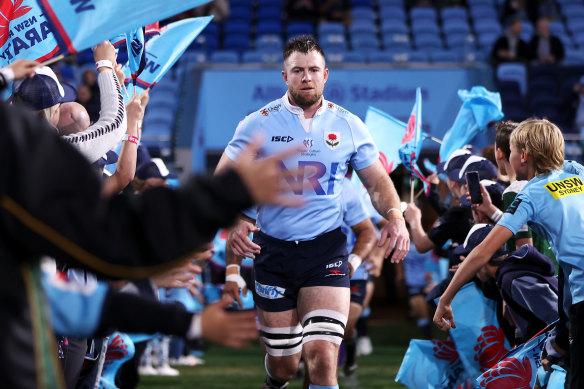 Waratahs star Jed Holloway runs through a tunnel with juniors cheering on.Credit: Getty
5. Play more games of rugby
It's hard to find consensus in Australian rugby, but you can bet the house on the fact that no coach or player believes that they are getting enough rugby at the moment. Super Rugby Pacific is a relatively short competition, so unless you are involved with the Wallabies you aren't being challenged for the second half of the year.
Former Force chief executive Tony Lewis implored Rugby Australia to start up a "third tier" competition, although the current financial realities make that a long shot. Yet, with plenty of already contracted Super Rugby players effectively sitting idle for six months there has to be a creative solution.
6. Widen the base
There are two ways of doing this: cutting the number of Super Rugby teams or expanding the competitions underneath Super Rugby in a meaningful way. It should be extremely hard to get a Super Rugby contract in Australia, and yet the brutal reality is that every year there are players in each Australian squad who are no more than NPC-standard operators.
Cutting teams would be painful, but there can't simply be an open-ended commitment to the five-team Super Rugby model if there are neither the players nor commercial benefits to justify it. Well after the establishment of the Force and Rebels, the Australian under-18 and under-20 sides continue to be heavily stocked by NSW and Queensland talent. Incidentally, the same logic should apply to Moana Pasifika – this isn't simply an Australian issue, it's a competition issue.
7. Make Super Rugby credible again
Heading into its third year, the 'L' plates have to come off – the eight-team finals format in a 12-team competition isn't working. There isn't the remotest chance that the team that finishes No.7 or No.8 is going to win the competition, so participation in the finals series is an achievement badge they don't deserve.
There's no way that a pitbull like Waugh, who was an absolute competitor in his playing days, would deep down back the current format, with clubs being able to dine out on "making the finals" when they didn't earn it like in the old Super Rugby formats. It's a cop-out, and if it remains then Super Rugby will breed players who take shortcuts.
Sports news, results and expert commentary. Sign up for our Sport newsletter
Most Viewed in Sport
From our partners
Source: Read Full Article