By Tom Decent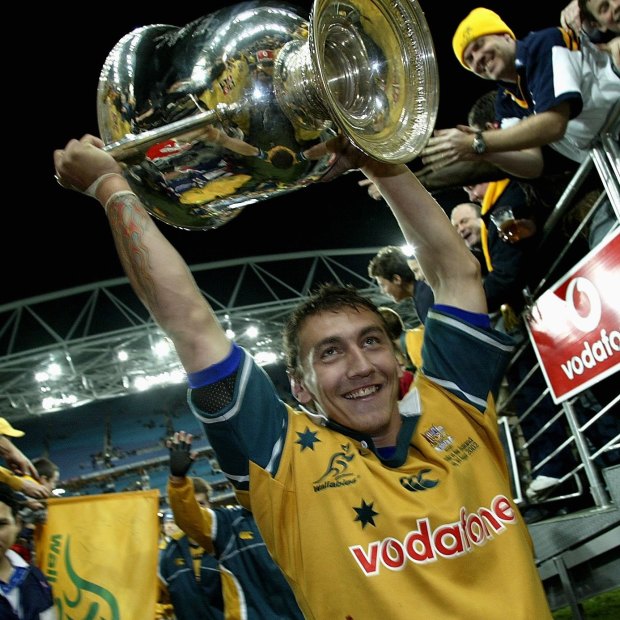 Mat Rogers holds the Bledisloe Cup aloft in 2002.Credit:Getty
Mark Ella was a magician on the rugby field and once channelled his inner Nostradamus at a speaking gig in 2012.
A decade had passed since the Wallabies last won the Bledisloe Cup, which was retained in dramatic fashion on an August evening in 2002 thanks to a Matt Burke penalty goal after full-time that teammates were convinced he was going to miss from almost in front.
After 10 years of torment at the hands of the All Blacks, Ella, widely regarded as one of the greatest Wallabies players, was asked how long he thought Australia's Bledisloe Cup drought may continue.
"I think it's going to be another 10 years before we get there," Ella said.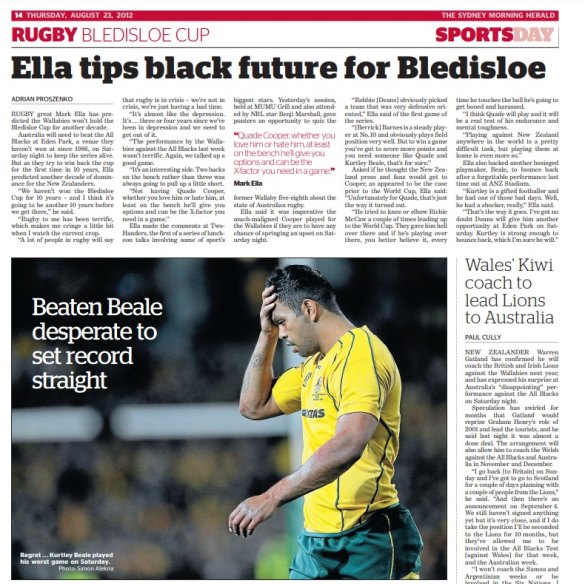 Mark Ella's prediction in the Sun Herald in August, 2012.Credit:SMH
A decade on from Ella's stunning comment, the drought has now doubled.
The 63-year-old's bold prediction came true, with the upcoming Australia and New Zealand series marking 20 years of Bledisloe Cup heartache for the Wallabies.
It's enough to leave any rugby fan over the age of 20 feeling melancholy.
"I can't see anything changing," Ella told the Herald and The Age ahead of another two-Test series beginning in Melbourne on Thursday.
"I wouldn't have ever thought it would be 20 years. I thought we would have been smart enough to work it out by now. Obviously, we can't for some reason.
"You can't go this long without winning. Anybody with half a brain in rugby knows we're not going to beat them."
How did it get to this point? How did a proud rugby nation, who sipped from the Bledisloe Cup every year from 1998 to 2002, fail to match it with their enemies across the ditch.
"It's not pretty reading," said 71-Test Wallaby Drew Mitchell, who was part of a generation of players who never lifted the Bledisloe Cup. "Hopefully it's this year. We've got to believe that. There's desperation to get our hands back on it."
Since 2003, when Australia handed the Cup back to New Zealand, the men in gold have been successful in just one-sixth of Bledisloe matches (nine of 54 Tests).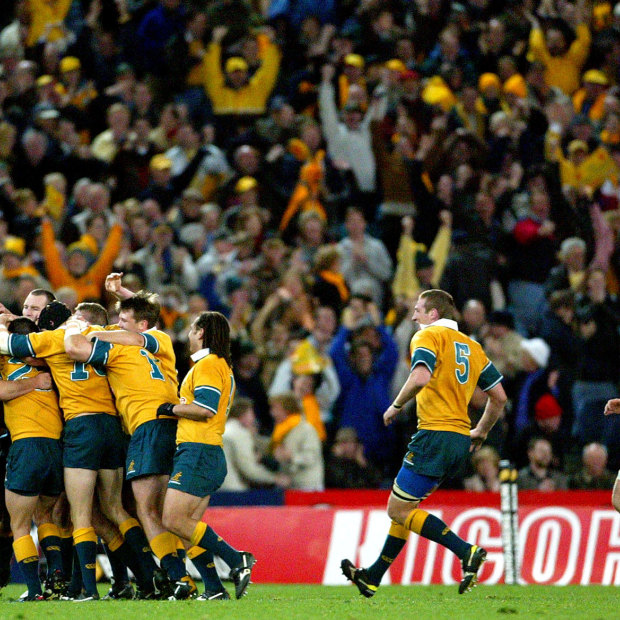 The Wallabies celebrate Bledisloe success.Credit:Steve Christo
"When you've got once-in-a-lifetime players, it makes a huge difference," said two-time World Cup winner and All Blacks great Sonny Bill Williams. "The talent pool in New Zealand is phenomenal."
Twenty years ago, Burke did not understand the significance of a moment now etched in Australian rugby folklore when his late penalty sailed over to give the Wallabies a 16-14 win in Sydney.
It was Australia's fifth straight Bledisloe series win and not even the most pessimistic observer could have predicted two decades of patchy performances.
"I remind everyone at work every time I'm there. I always say 'who kicked the goal? I can't remember'," said Burke, firmly tongue-in-cheek. "20 years, wow. That is a long time.
"The irony is that night I kicked two from five and became a hero. I should have been hung, drawn and quartered for kicking so s—."
To set the scene, new Wallabies recruit Mat Rogers had just scored a tremendous 72nd-minute try to put Australia behind by one point with seven minutes to go.
But Burke, the team's sharpshooter, missed the conversion.
However, an energised Wallabies side chased the win by marching downfield before earning a penalty.
Matt Burke is mobbed by teammates after kicking the match-winning goal of the 2002 Bledisloe Cup series.Credit:Getty
Then came a comment that has lived in the memory for two decades.
"Mat Rogers walked over with the ball and said 'do this one for me, do this one for the team and think of all the endorsements you're going to get'," Burke said "I started pissing myself laughing. That calmed me down."
Can Rogers corroborate that story?
"I just said 'mate, think of the country and think of the money you'll make off the memorabilia'," Rogers told the Herald. "I think he purposefully missed the first one.
'When you've got once-in-a-lifetime players, it makes a huge difference'
"After he kicked the second, I ran in there and said I wanted a slice of the memorabilia.
"The funny thing is that I dropped the ball about five minutes before my try. I was shattered. I thought I'd cost us the Bledisloe Cup, so I was determined to make amends."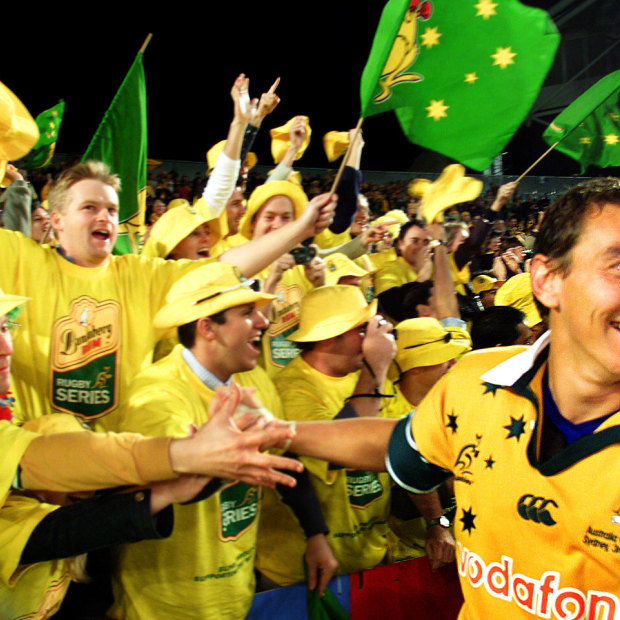 Mat Rogers celebrates Australia's win in Sydney in 2002. Credit:Penny Bradfield
Burke added: "When we got that [last] penalty, Brendan Cannon and Chris Whittaker were sitting on the sideline and looked at each other and said 'oh, we're f—ed. He's not going to get this'.
"The day before at the captain's run, I missed 10 from there. I went left, I went right. I couldn't hit it for the life of me. I threw away the kicking tee in disgust.
"There's not many times in sport you get a second bite of the cherry."
If only they knew how long it would be between celebratory Bledisloe beers.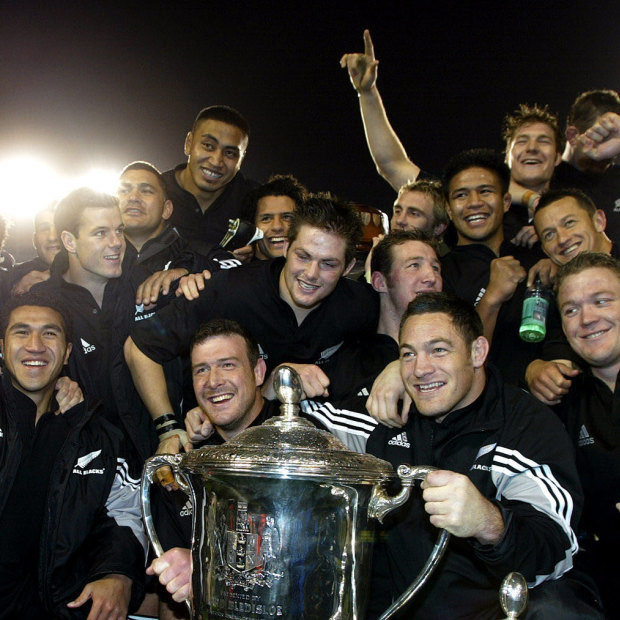 The All Blacks won back the Bledisloe Cup in 2003. Credit:Pat Scala
As for why the Wallabies haven't broken their Bledisloe hoodoo, one of the most talked about losing streaks in Australian sport, there are myriad theories.
Ella feels there is a lack of depth.
"We're consistently bad," Ella said. "The solution is we need better coaching and better players, simple as that. That's the predicament for Rugby Australia to work out.
"You've actually got to deliver the goods rather than moaning or groaning that we didn't play well and [saying] we're learning and we'll get better next game. That's bulls—."
Sonny Bill Williams assures New Zealanders never get sick of beating the Wallabies.
"It was George Gregan in the World Cup semi-final in 2003 who said "four more years" and baited the All Blacks," Williams said. "That stuff sticks in the memory of players. It's a great rivalry."
It doesn't bring joy to anyone who donned a gold jersey.
"You want this hoodoo to go," Burke said. "When we were commentating a game in 2013 in Wellington, I thought it was the insult of all insults from the Kiwis when only the two new blokes walked the Bledisloe Cup around. Everyone walked off thinking 'oh well, I've been there and done that before'.
"I was like, 'oh man, this is killing me'."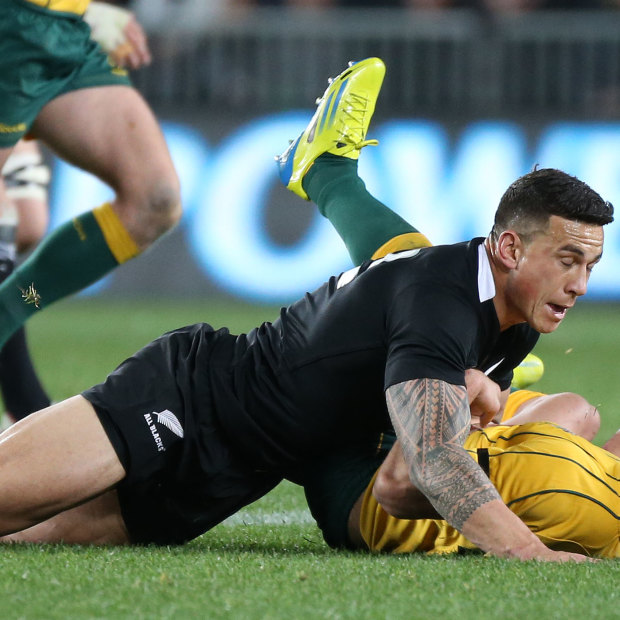 Sonny Bill Williams puts a shot on Quade Cooper in a match in 2012.Credit:Peter Meecham
As the years go on, Rogers is surprised the tide hasn't turned.
"It's something you shake your head at a little bit," Rogers said. "How have they been so dominant for so long? It's not like we lack talent. Is it a mindset? Talent? Are they that good? Are we that bad?
"The longer it goes, the closer we get to a win, right? We're not that bad. I don't think we are. We have proven that over the years. You've just got to back it up."
Analysing the form guide before a Wallabies and All Blacks match can be fraught with danger, but this year has been unique.
Despite thumping Argentina 53-3 just over a week ago, the All Blacks lost six of their previous eight Tests. Coach Ian Foster was mighty fortunate to avoid the sack.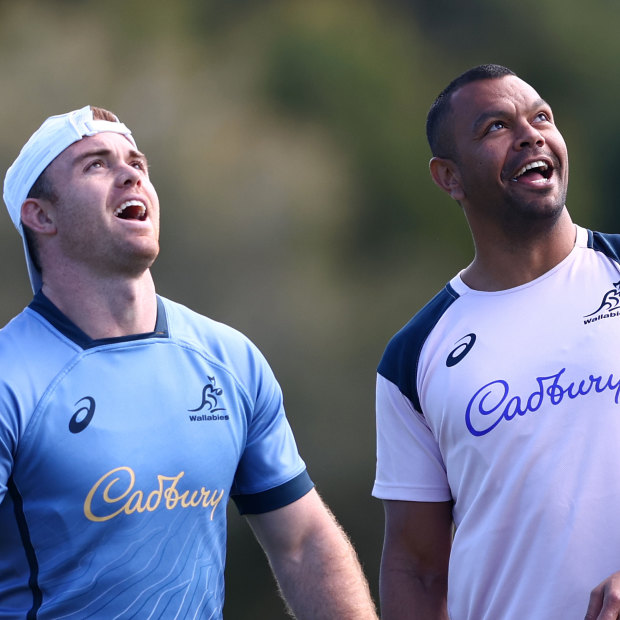 Andrew Kellaway and Kurtley Beale during an Australian training session ahead of the Bledisloe Cup opener. Credit:Getty
So, are the All Blacks vulnerable? While it will be a monumental effort to reverse a trend of deflating performances, Mitchell says Australia may be able to exploit some Kiwi insecurities.
"They're probably not as confident as they have been," Mitchell said. "If the Wallabies start like they did in Adelaide [in a 25-17 victory], then perhaps some of those doubts start to creep into the forefront of the mind … some of the pressures and cracks start to get a little bit wider. It's going to be a difficult task."
Last week, Kurtley Beale assured there was belief in the group, while coaches are working hard to ensure Wallabies fans can party like it's 2002 again.
"[It's about] genuinely crossing the chalk and thinking you're going out there to change the course of history," said Wallabies assistant Dan McKellar. "It's been the best part of 20 years since we held the Bledisloe. If we don't have confidence and belief, we're kidding ourselves."
We'll give the final word to Sonny Bill.
"It's going to be very difficult for Australia to win because they've got to win two games," he said.
"There is definitely talent in Australia. They can jag a game here and there but winning all your games in a year against the All Blacks is very rare."
Watch every match of The Rugby Championship on the Home of Rugby, Stan Sport. All matches streaming ad-free, live and on demand on Stan Sport.
Most Viewed in Sport
Source: Read Full Article