You just knew there had to be another twist. The most thrilling season Formula One has experienced in years did not earn that reputation by sticking to the script. And Saturday was no exception. What a cliffhanger.
Lewis Hamilton can still become the most decorated driver in the history of the sport on Sunday. But if he is to wrap up his eighth world title, to surpass the legendary Michael Schumacher, he will have to find a way past Max Verstappen after the young Red Bull driver produced an "unbelievable" qualifying performance beneath the Yas Marina lights yesterday to stun Mercedes and claim a surprise pole for the season-ending Abu Dhabi Grand Prix.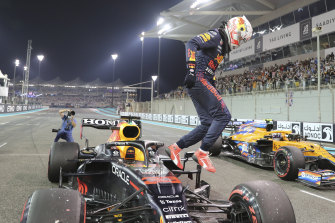 Max Verstappen will start on pole for the final race of the season.Credit:AP
The two title contenders head into today's grand prix level on points, knowing whichever of them finishes first will be crowned champion.
Unless, that is, neither finishes, in which case Verstappen will win the title by virtue of having won more races this year. After a season with more twists than a murder mystery, only a fool would try to second guess what will happen. But Verstappen has certainly landed the first blow.
The 24-year-old beat Hamilton's best time by nearly four-tenths of a second in Q3, a sizeable margin even allowing for the fact that he got a helpful tow from teammate Sergio Perez.
To add another layer of intrigue to the mix, Verstappen "flat-spotted" what were expected to be his starting race tyres in Q2, and will begin the winner-takes-all race on the softs, as opposed to Hamilton, who will be on the mediums. Such is the climate of suspicion wafting around the Yas paddock, the Briton admitted afterwards he did not know whether his rival had faked the flat-spot to switch to the softs before the end of Q2 or whether he really had locked up. Drivers are required to start the race on the same set of tyres on which they set their fastest time in Q2.
"I'm always kind of sceptical," Hamilton said. "It's very rare that people lock up into turn one here."
One thing no one could question was Verstappen's superior speed in Q3. To say it was unexpected would be an understatement. After three race wins in a row, an "unraceable" car (Red Bull's description) in Saudi Arabia last week, and a 0.6 second advantage in practice on Friday, the momentum, and the pundits, were all behind Mercedes.
Verstappen, though, had other ideas. After Hamilton was quickest in Q1, the Dutchman turned the tables in Q2. There was a logical reason for that. He had to switch to the softs towards the end of the session after the "massive flat-spot" locking up into turn one.
But they were both on the medium compounds in Q3, and it was no contest.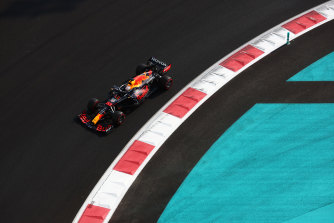 Verstappen drives during qualifying.Credit:Getty Images
Even allowing for Verstappen's tow, his margin over Hamilton was incredible. "We just couldn't compete with that time," Hamilton conceded, adding that it was never discussed within the team whether to use teammate Valtteri Bottas in a similar role to Perez. "I'm still on the front row," Hamilton added. "We're in a good position, I'd like to think, with our tyres for tomorrow."
Verstappen, for his part, played down how much of a help Perez had been. But it was clear that after three races on the back foot, and his mistake on the final corner in qualifying last weekend, he was enjoying being back on top.
"Yeah, of course. Starting first. It's where you want to be," he grinned.
Others were also impressed. Two-time world champion Fernando Alonso, whose live reaction to Verstappen's qualifying crash in Jeddah went viral, was effusive in his praise. "Unbelievable," the Spaniard said. "Honestly, unbelievable. He's outstanding."
It was an assessment with which Christian Horner, Red Bull team principal, concurred. "That was one of Max's best laps of the year. His last sector is absolutely insane. Max is giving it everything, driving his heart out."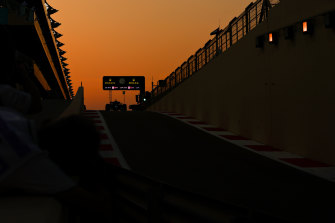 Lewis Hamilton would surpass Michael Schumacher for world titles if he wins on Sunday.Credit:Getty Images
Horner added that he was "not upset to be starting on the softs" after Toto Wolff, his opposite number at Mercedes, suggested the harder compound was definitely the way to go. "The medium is a bit more robust, but track position is crucial."
Wolff, of course, backed his man. "He will be angry, and that is good," the Austrian said. "Motivated for tomorrow to hunt him down. This is a long race, and this is Lewis Hamilton in the car." Indeed, it is. Pole is powerful here, though. The last time the Abu Dhabi Grand Prix was won by a driver who did not start on pole was in 2014. And the driver who won that year, having started second on the grid? You guessed it.
One thing is certain, this season is unlikely to have had its final plot twist. The possibility that the destination of this year's title is decided in the stewards' room, or even a courtroom, remains real. McLaren's Lando Norris, who starts third after a brilliant performance, admitted he was so nervous of getting caught up in the drama, he was not even sure he would try to race the two championship leaders.
It is impossibly tense. But there was still time for a bit of perspective. "This year we have been pushing each other to the limit," Verstappen observed in the final press conference before the main event. "We are trying to get everything out of our cars to the last lap, the last corner. It has been really enjoyable for most of the time. In 20 years, myself and other people will look back on it and remember this year."
Hamilton, seated to his right, looked over at his rival. "Well said, man," he nodded, approvingly. "It has been an incredible year. I am grateful I have had such a close battle with Max and his team. They have done an exceptional job, shown true strength and pushed us to the limit in ways we needed. I hope we have many more seasons like this."
And so say all of us.
The Sunday Telegraph, London
Sports news, results and expert commentary. Sign up for our Sport newsletter.
Most Viewed in Sport
From our partners
Source: Read Full Article