Save articles for later
Add articles to your saved list and come back to them any time.
The first Australian to sign with Greg Norman's LIV Golf has taken a swipe at the PGA Tour's failure to bring a regular event Down Under, while claiming a number of fellow professionals were "bitter and jealous" they weren't approached to join the Saudi-backed breakaway circuit.
Two-time Australian Open winner Matt Jones, a member of Cameron Smith's Ripper GC, said he was "amazed" world golf's biggest circuit had never established a permanent tournament in the country given the success of Norman, Adam Scott, Jason Day and Marc Leishman on its US-based tour.
In a wide-ranging interview with the Herald and The Age in which he revealed he was on a massage table next to Rory McIlroy when it was announced he was joining LIV, Jones said the rebel tour could easily accommodate extra events in Australia.
Norman will bring the richest golf tournament ever played in Australia to The Grange Golf Club on Friday, with $37 million in prizemoney to be won across the individual and team formats.
Asked if the PGA Tour could have brought an event to Australia, Jones said: "To have someone fly down here for one week would be tough, knowing Americans and how they don't like to travel. You would have to have a week off before and after to fit it in.
"But I'm amazed given when you consider we've been to China, we've been to South Korea, we've been to Japan now. The PGA Tour is not dumb. They know where the money is and where the markets are to make money. And that's what they're all about.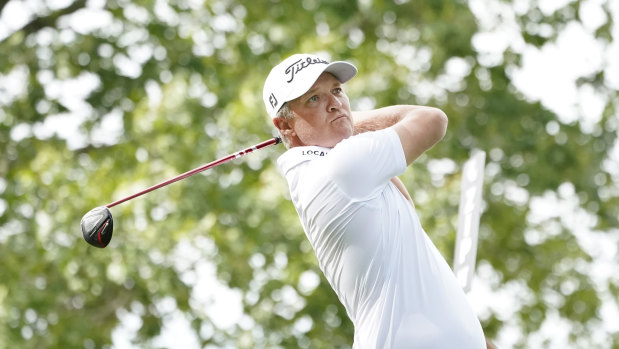 Matt Jones will be part of Cameron Smith's all-Australian Ripper GC team in LIV Golf's Adelaide event.Credit: AP
"I think it's a shame it hasn't happened. I know there's been multiple conversations from certain Aussie players to try to get one down here and I know it's never happened. I can't see it happening now."
LIV Golf is already considering bringing a second event to Australia in 2024, capitalising on the demand for tickets at the Adelaide event.
The original release of tickets and hospitality was sold out, prompting LIV to put more on sale for all three days and open up the Pro-Am event to spectators.
Jones, whose world ranking has tumbled from 69 to 149 in less than a year given LIV events are not officially recognised, took a leap of faith to join the concept's first event just outside London last year.
Smith and Leishman later joined the roster at the end of the PGA Tour's season-ending play-offs, with The Open winner drafting Jones into his all-Australian Ripper GC team for the second year.
"It was very last minute," Jones said of his call to sign with LIV. "I was first initially in touch with them in May and then I signed the contract on the Monday of the Memorial [tournament] and they announced the field on the Wednesday.
"It was a tough decision. My wife was all for it and she was a big factor for me signing and going. She liked the idea and she thought it was something amazing for golf. She saw the potential.
"I was on the tables in the therapy room with Rory [McIlroy] and [Billy] Horschel when my name come out during that tournament. They were fine. They understand for a lot of guys, 'Why wouldn't you'? I don't have the money and contracts those guys do. It made sense for me.
"Not one person I know was being critical, they might have been a little upset or jealous. I think there's a lot of that. Maybe they didn't get contacted or a chance to do it – and then they were bitter and jealous.
"In hindsight, they've got nothing to worry about because of the purses they're playing for [in the PGA Tour's new schedule]."
Two-time Masters winner Bubba Watson flagged LIV's roster was buoyed by the reception they will receive in Australia given accusations of the league being a sportswashing exercise for Saudi Arabia have dogged Norman in the US. LIV is bankrolled by Saudi Arabia's public investment fund.
Jones said the chance to return to Australia in the middle of the year was much easier physically than for the Australian Open and PGA in summer.
When asked is there would be support for LIV, Jones said: "I think the only bad-mouthing would be more on the US side and their media side.
"I think it's probably one of the best fields, if not the best field, Australia has ever seen. That would even be going back to the Jack [Nicklaus] and Greg days. When you have the list of major winners and tournament winners out here, it's pretty impressive.
"Everyone is pumped. I can't explain how excited everyone is to be coming to Australia – and I'm not just saying that to blow smoke.
"It would be unbelievable for us to win, but more so for the team to win rather than an individual. I think the team winning would be much better than an individual. A team win would do wonders with the crowd and amount of support we'll have."
Sports news, results and expert commentary. Sign up for our Sport newsletter.
Most Viewed in Sport
From our partners
Source: Read Full Article