I told yers, but would you listen? Noooooo.
I told yers that for all of Greg Norman's blather about the need for LIV Golf, the hunger for LIV Golf, the passion for LIV Golf, it was no more than exactly that – a lather of blather amounting to nothing. I said that real golf fans would never embrace a competition that has not only sparked a civil war in the otherwise genteel sport, but they would reject en masse any comp:
Fronted by Norman
With zero tradition or sense of history
Awash in the blood money of the brutal Saudi regime
I said Norman could carry on until he was blue in the face about how his revolution was going to transform the sport, bring new fans, liven the whole thing up, take it to new heights, produce new champions and be everything other than what it transparently is – a competition built on billions of dollars of Saudi money, played by blokes who couldn't resist the dosh no matter what it did to the sport.
Say Greg, can you give us a quick burst from last week, on how you thought this season would go, as you built towards the first tournament, this one to be televised?
"In less than a year," Norman boasted to the Daily Mirror last week, "LIV Golf has reinvigorated the professional game and laid the foundation for the sport's future. In 2023, the LIV Golf League comes to life. The most popular sports in the world are team sports, and our league format has already begun to build connections with new audiences around the globe.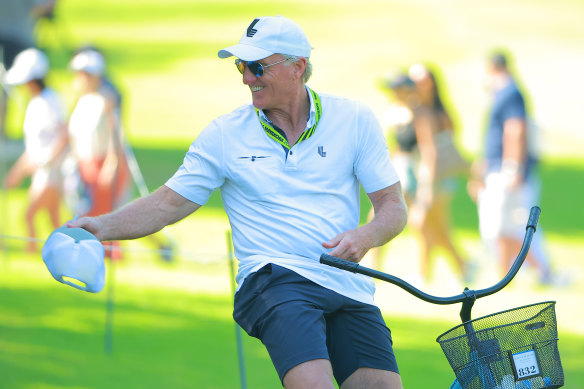 Greg Norman at the LIV Golf Invitational in Mexico at the weekend. Credit:Getty Images
"Major champions, current and future Hall of Famers, and up-and-coming stars are all committed to creating this new platform for world-class competition as the sport evolves for the next generation."
Did I mention "a lather of blather"?
And the CW Network, which you were about to broadcast on, Greg, what of it?
"The CW will provide accessibility for our fans and maximum exposure for our athletes and partners as their reach includes more than 120 million households across the United States."
Great. But now we have the answer.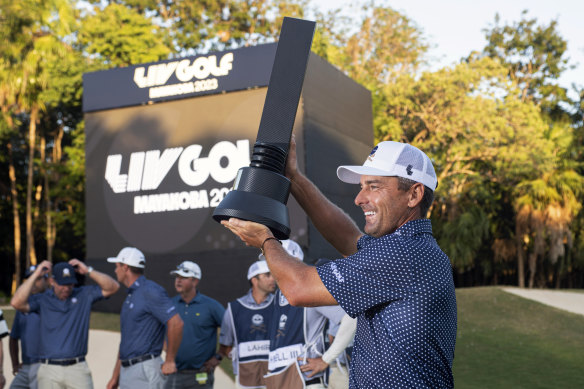 Charles Howell III won the weekend's LIV Golf tournament.Credit:LIVGO
Friends, the opening tournament of LIV Golf for 2023 was indeed broadcast on the "CW network", the only one left standing when ESPN, Fox Sports and the rest ran screaming from the room and burnt the clothes they were in at the time. The ratings were nothing if not instructive. The New York Post's headline summed it up: "LIV Golf's TV debut was a ratings disaster".
Those American ratings were – drum roll please maestro – 0.2 per cent. That is, two households in every thousand surveyed actually tuned in. Golf Digest noted that World's Funniest Animals, which aired on the network later in the day, attracted more viewers.
Yes, friends, when offered the opportunity to watch LIV's exciting new format – "golf but louder" – playing in teams, shotgun starts, no cutting the field and pretty much everyone wins a prize, and all of it to throbbing dance music, the mob did not care.
Cue Dan Wolken from USA Today: "Can you really call it 'golf but louder' when you'd need a stethoscope to determine if this tour even has a pulse?"
Ian Poulter tees off in Mexico on Sunday.Credit:Getty Images
And what do you say, Eamon Lynch of Golfweek?
"Norman's LIV Golf has a solitary anchor that prevents it from being dashed on the rocks of commercial reality, the Public Investment Fund of Saudi Arabia … The promised major broadcast rights deal became a giveaway to a little-watched network whose affiliates prefer Judge Judy reruns to tournament action. The promised stampede of blue-chip sponsors yielded one low-profile shipping outfit."
But maybe I am just cherry-picking the narky ones? Maybe there are respected international golf writers out there saying LIV is great? See if you can find them. I can't. The New York Times seems not to have covered this most recent LIV tournament at all.
However, the most instructive comments come from golf fans on the New York Post piece:
Beach Girl: "I can hear the desperate gulps as the tour sinks to the bottom. You can't make people like you if they don't, they [LIV] just haven't figured that out yet. You can pay the golfers millions but we still won't watch – period."
BC425: "It's like watching a golf outing with a bunch of rich guys. Instead of participation trophies even the last guy gets participation money. Shorts, shotgun starts, cartoon-like team names. No history, no tradition, it's like NBA G-League basketball. It's golf but weird."
You get the drift. Yes, the Saudi billions could buy a sprinkling of the best players. But they couldn't get the golf fans themselves, which is nothing if not heartening.
Twitter: @Peter_Fitz
Sports news, results and expert commentary. Sign up for our Sport newsletter.
Most Viewed in Sport
From our partners
Source: Read Full Article