George Kambosos jnr has revealed he will place a sex ban on himself ahead of his fight against Devin Haney in the belief it will give him an edge in his first world title defence.
Kambosos is attempting to become just the seventh undisputed world champion across all weight divisions since the four-belt era began in 2004 when he takes on the American at Melbourne's Marvel Stadium on June 5. The victor will emerge with every prize in the lightweight division, with the Australian looking to add Haney's WBC crown to the WBO, WBA, WBC franchise, IBF and Lineal Ring Magazine belts in his possession.
Kambosos abstained from sex in the lead-up to his shock win over trash-talking American Teofimo Lopez, which catapulted the Aussie to superstardom. It's a sacrifice he and his wife made in the belief it would ensure the undefeated 28-year-old was in the best possible physical and mental state.
It's a tactic Kambosos will again employ ahead of the clash with Haney.
"That's the sacrifice that we make," Kambosos said. "I've got three kids anyway; it might do me a favour!
"It's not even half a percent [advantage], it's 0.1 per cent. That's what gets you over the line.
"That's the difference between me getting up in round 10 [against Lopez] and fighting back, winning rounds 11 and 12 or staying down and saying, 'You know, I did enough today, I earned my respect, I just couldn't do it. I'll go home with my $1 million whatever because I'm happy for the rest of my life.'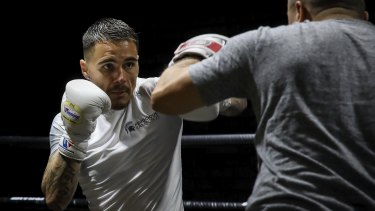 George Kambosos trains ahead of his clash with Devin Haney at his new gym in Mortdale.Credit:Renee Nowytarger
"No, that's not enough. That's why I stay so focused and entrenched in what I do best. It's that 0.1 per cent.
"It's the same; I'm doing it [the sex ban] now. I'm doing everything [required]. I cut things out, I make sure I stick to the same routine, but I add more.
"That's what I'm doing as a whole team. As much as it's me, it's the whole team."
Kambosos has earned a reputation as being one of the most driven, single-minded athletes in Australian sport. This was evident when a tragedy and blessing struck on the same day in the lead-up to his world title heroics.
"The craziest thing I did, the day my grandfather passed away, two months before I met Lopez, the same day my son Santiago was born, I trained that night," Kambosos said.
"Through all that adversity – at a time when someone could have been broken, it would have been easy for me to say, 'Today I take the day off' – I put in the work.
"I've got three kids anyway; it might do me a favour!"
"I went on the road and started running. I went back into the gym. That shows that if I couldn't be broken in that moment, Lopez was never going to break me. Haney ain't ever going to break me.
"I'm too focused, I'm too hungry, I'm too zoned in.
"When I say tunnel vision, I mean tunnel vision. Not even the death or birth could break that tunnel vision. Yes, I felt upset and happy at the same time – it was a weird feeling – but I was too focused."
By the time Kambosos steps back into the ring, it will be seven months since his victory over Lopez. The Sydneysider said he had used that time to become an even more complete fighter compared to the one that produced ESPN's upset of the year.
George Kambosos celebrates his win over Teofimo Lopez.Credit:Ed Mulholland/Matchroom
"I'm 100 times a better fighter," Kambosos said from his recently opened gym in Mortdale. "Physically bigger, stronger, more explosive.
"What I did after the Lopez fight, I sat down with my team and said, 'How do I get better?'
"So we started lifting heavier, we started doing more explosive work, we started boxing different angles, fighting southpaw, orthodox, doing all these things to get better and better.
"I've been entrenched in creating my legacy; training and fighting the best of the best, beating the best of the best.
"That's why I don't rest on my laurels. I never stay content, I'm putting in the work and getting better and better.
"Physically, six-and-a-half weeks out, I'm in the best condition of my life. That's a testament to my hard work. I could have rested on my laurels and had fun, soaked this all up and been, 'Look at me, I'm the champ.'
"But I'm in the gym, non-stop. If George is missing, you'll find me here, in the gym."
Reigning WBC heavyweight champion Tyson Fury will defend his title against countryman Dillian Whyte live and exclusive on Stan Event on Sunday, April 24, from 3am (AEST), with the title fight after 7am. Stan subscribers can purchase the pay-per-view event for $60. New customers can sign up to a free trial and purchase the fight.
https://bigsportsnews.com/nba/trae-not-any-doubt-clutch-floater-would-sink/
Most Viewed in Sport
From our partners
Source: Read Full Article