Melbourne United coach Dean Vickerman said the Cairns Taipans' decision to opt out of wearing a pride jersey reinforced the need for the round and more education on LGBTQ issues.
The Taipans released a statement on Wednesday explaining that some of their players had received "abuse and harmful commentary" after reportedly voicing concerns about wearing a rainbow logo due to religious beliefs.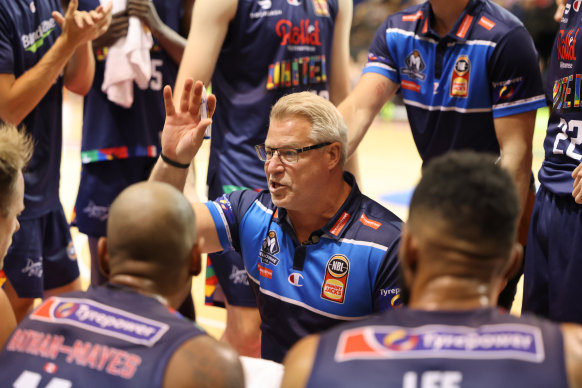 Melbourne United coach Dean Vickerman.Credit:Getty Images
"For me, it just shows that we need to continue the further education. Any time there's change in our league, we've got to support it with education," said Vickerman.
"It [the Taipans' decision] has brought a little bit of a voice to what this round is about. There's going to be debate about it and people are going to talk about it … There's always going to be two different views, and hopefully we can educate people enough to get on the same page."
United became the only team in NBL history to have an openly gay player when centre Isaac Humphries came out two months ago.
Vickerman referred to the speech Humphries made to the club at the time on why the round was important for the sport.
Isaac Humphries.Credit:Getty Images
"[It's] about just making sure that everybody feels included in the sport and not being a kid like him that he's got to hide away … [It's about] being an inclusive sport that we want everybody to have the opportunity to play," said Vickerman.
"We're a club that stands strong in our beliefs and we stood strong behind Isaac and now we go over and wear the logo very proudly and hopefully we represent the community and Isaac really well in the way that we go and play."
Ahead of the league's inaugural pride round all NBL teams participated in a 90-minute educational session run by Pride in Sport.
Vickerman said the training sessions were "pretty comprehensive" and provided a better understanding about the LGBTQ community.
The Taipans confirmed all the club's players, coaches, CEO, club operations and board representatives participated in the session, which was organised by the league.
The club released a statement before Wednesday night's tip-off against South East Melbourne Phoenix, declaring its players would not wear the pride uniform.
"This initiative should be a celebration, however, our team has already been subjected to a barrage of abuse and harmful commentary that has led to individuals being targeted and shamed," the statement said.
"This is a negative distraction to what should be a positive experience across the game, and now we feel as though our only choice as a team is to collectively opt out of this season's uniforms."
United forward Mason Peatling echoed Vickerman's thoughts.
"It probably just highlights the need to have the round and the need to have further discussions and the need for everyone to feel included in the game of basketball, which is the most important thing," said Peatling.
He added the team were looking forward to wearing the pride uniforms for their game against the New Zealand Breakers on Saturday, especially given the community's support of Humphries.
"We're excited to whip the jerseys out on Saturday and rock them … we're really, really proud to wear that jersey on the weekend and just represent them a little bit, too."
The Taipans said they found it "disappointing" that instead of focusing on the LGBTQ community and the positivity around the pride round initiative, some media commentary had centred around players who may be conflicted because of religious beliefs or personal circumstances.
"NBL owner Larry Kestelman stated Pride Round will be approached from a position of love and respect, without judgment, and the club shares this position," the Taipans said in an additional statement.
"We support players and respect their choice to wear or not wear the Pride uniforms this season, without judgment.
The Pride colours on show at the State Basketball Centre this week.Credit:Getty Images
The club hoped its fans and the wider basketball community would embrace the inclusivity that pride round represents in a constructive way, which celebrates diversity in the sport.
The Taipans added they would "continue to work with Pride in Sport and look forward to more opportunities for LGBTQ education and initiatives".
Melbourne United are seventh on the NBL ladder with two rounds to play. A win in New Zealand is imperative for a finals berth.
Most Viewed in Sport
From our partners
Source: Read Full Article