Save articles for later
Add articles to your saved list and come back to them any time.
Thirty years ago, Andrew Gaze and Lanard Copeland were the stars in Melbourne Tigers' breakthrough NBL championship. Now, Copeland gets a laugh when he points out that it's the sons of his teammates who are the big names in Australian basketball.
The iconic 1993 championship will be celebrated on Sunday when Melbourne United play the Illawarra Hawks at John Cain Arena, almost three decades to the day since the Tigers beat the Perth Wildcats in a heart-stopping game three in Perth on October 31, 1993.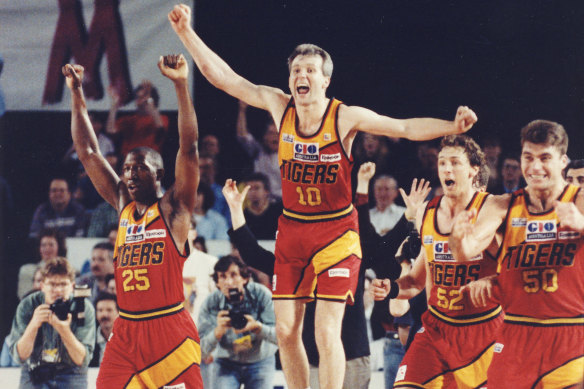 Andrew Gaze [middle] celebrates a win by his Melbourne Tigers in 1993 with Dave Simmons (25), Robert Sibley (52) and Mark Bradtke (50).Credit: Photo archive
The celebratory hug, or perhaps headlock, between an emotional Andrew Gaze and father/coach Lindsay remains an unforgettable moment, and Copeland is still emotional about his first championship at any level and the first title for the Tigers in the NBL.
But while Gaze and Copeland were the superstars back then, now they watch in awe as Josh Giddey, son of Warrick, and Ben Simmons, son of Dave, star in the NBA. Copeland also notes that Jensen Bradtke, son of Mark, has just finished up at the NBA Global Academy in Canberra and is starting his US college career at St Mary's.
"No way did I think two guys [would produce NBA players] … and don't forget Bradtke's son is playing in college, he's a chance as well," Copeland said.
"Wouldn't it be crazy? Me and Gazey threw up a lot of shots back then and those guys did all the hard work.
The fathers of NBA guard Josh Giddey, US college basketballer Jensen Bradtke and NBA guard Ben Simmons all played in the Melbourne Tigers' 1993 NBL championship. Credit: Getty Images, Melbourne United and AP
"We got our fame back then, they are getting their fame right now. I think it is magnificent.
"I think it's great that Simmons and Giddey are doing their thing [in the NBA]. To have two guys, almost three, playing in the NBA from Melbourne Tigers – that tells you we were a very lucky group."
Andrew Gaze and Lindsay Gaze pictured on the Age front page 30 years ago.Credit: The Age
The Tigers were a talented group too, with Gaze, Copeland and Bradtke all having stints in the NBA along with celebrated careers in the NBL. But that 1993 championship was a seminal moment for the Tigers, and for many basketball fans watching on television around the country.
Many will never forget Andrew Vlahov's late go-ahead three-pointer bouncing in and out of the ring, nor the embrace between the two Gazes.
"I did some work last year with Channel Ten and [Stephen] Quartermain is still there," Copeland said.
"He was calling our games in the early 1990s and he brought up the hug with the Gazes. How Andrew was crying and Lindsay looked like he couldn't breathe. We were making a joke about it but you had to be there to feel that emotion.
"We were all hysterical. I had just given Andrew a hug and he grabbed his dad – it was just fireworks. It was fireworks. It still makes your eyes water thinking about it.
"It just felt so good for them to get their first championship with all the stuff they had put into this game. They deserved to have a championship under their name."
Lindsay Gaze joked in his 2020 book Gaze: The Man. The Player. The Coach that the hug was pleasurable for one of the Gazes.
"The enduring and endearing image of the immediate aftermath [of the title] is of Andrew putting me in a headlock of unrestrained joy – at least for him," Lindsay wrote.
The Tigers' time in the NBL came to a shuddering halt in 2014 when the team was rebranded as Melbourne United, although the Melbourne Tigers still proudly play in the Victorian Junior Basketball League and at state league level.
When the name change was suddenly announced, Copeland called it a disgrace and told United to take his retired jersey down from the rafters.
But United officials have worked hard to win back past Melbourne NBL players and try to carry on the legacies of past teams, including having current players ask club greats if they want to wear one of the numbers retired by the Tigers.
This season Copeland had a call from United import Ian Clark asking that and the 1993 team will get centre stage on Sunday with a half-time presentation organised along with other festivities.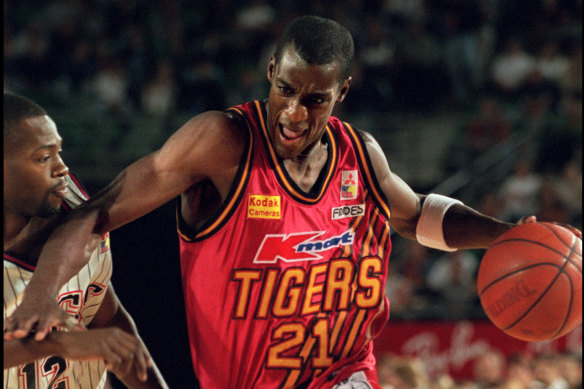 Melbourne Tigers great Lanard Copeland in his NBL days.Credit: Ken Irwin
They hope all players will be in attendance, although Lindsay Gaze is not expected to be there.
"When it first came out, no one was happy about it or knew what Larry's [Kestelman] vision was and you have some Tigers fans today who are still not happy about it," Copeland said.
"But you have to take your hat off to them. They've done a good job in keeping the Tigers brand alive. They have the championship banners and the retired numbers hanging up.
"I call games for the NBL and there is not one game I call where someone doesn't comes up and ask for a photo," Copeland said.
"It's always a dad as kids have no idea who I am. But the dad will point up to the jersey and you'll see the light go on in that kid's eyes – it still makes me feel good about having my jersey retired."
The title win and the memory of returning to a packed Melbourne Airport remains vivid for Copeland who was in his second season in the NBL.
"I had never won a championship in my life, so it was all something amazing to me," Copeland said.
"That's what sold me on hanging around [in Australia]. We didn't win the first year, we won in my second year and the type of love you got, it wasn't cheap love, it was real love. People were crying. It was one of the reasons why I made this my home, people genuinely have that good love for you."
News, results and expert analysis from the weekend of sport sent every Monday. Sign up for our Sport newsletter.
Most Viewed in Sport
From our partners
Source: Read Full Article