Chinese star Zhou Qi lit up social media when he signed with South East Melbourne Phoenix and his supporters here and worldwide had even more reason to celebrate on a night he made his National Basketball League debut.
Having only emerged from 72 hours of quarantine on Saturday morning after returning from a FIBA World Cup qualifier, and proven an ankle concern had eased, Zhou was one of the headline acts in the Phoenix's 89-65 season-opening win over a short-armed New Zealand Breakers at John Cain Arena on Saturday night.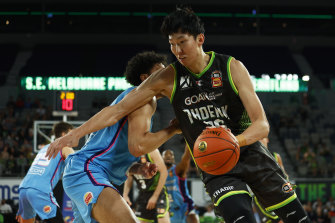 Phoenix's Zhou Qi dunks against the Breakers.Credit:Getty Images
The seven-footer, a former Houston Rocket, finished with eight points, five rebounds and three blocks and was involved in all facets of the game, having started on the bench.
There was a willingness to battle for loose balls, anchor the defence and dunk on defenders, giving the Phoenix, as teammate Kyle Adnam noted, a presence they had lacked.
American import Xavier Munford was also instrumental in the win. The New Jersey product, who has had stops in the NBA and various leagues around the world, was dynamic at point guard, whether that be scoring or creating.
A former teammate of Matthew Dellavedova with the Milwaukee Bucks, Munford poured in a team-high 27 points (a franchise record on debut by an import) on 11 for 18 shooting from the floor, including a four-point play in the third quarter which brought the fans to their feet.
"We just wanted to come out and make a statement … we just want to keep playing hard," Munford said.
The Breakers, missing several players, not to mention coach Dan Shamir, to COVID-19 were weakened, but were held to only 23 points at half-time – their equal lowest score in franchise history. They, no doubt, are already looking forward to a rematch on Friday night.
Phoenix shooting guard Ryan Broekhoff averaged only seven points per game last season, his first with the Phoenix, but the Boomers sharpshooter is now in a better place physically and mentally. While the former Dallas Maverick was held to seven points, his quick first step was obvious and he appears set to find his groove.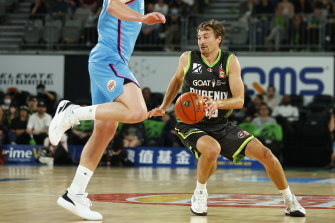 Phoenix's Ryan Broekhoff fakes before shooting from the arc.Credit:Getty Images
Back in business
Dane Pineau started at centre in a feel-good story, for his 2020-21 season was ruined by a back problem. His hustle and effort on the boards was instrumental in the Phoenix's first-half blitz. Zhou, however, took his spot at the start of the third quarter.
"The coaches and staff have supported me so much over the last 18 months … one thing I can control is playing super hard and that's what I tried to do tonight," Pineau said.
Championship dreams
In a pre-game clip on ESPN, Phoenix franchise forward Mitch Creek spoke about last year's losing semi-final series to Melbourne United. "I think about it every day … I have got to get better, I have got to get my teammates better," he said.
Creek was almost unstoppable in the low post in the third term, and gave a "rock the cradle" celebration after having the better of his opponent on one play. He finished with 19 points.
Creek won't have long to wait to have a crack at United, for the two clubs will renew their intense rivalry next Sunday.
Delivering his message
In Shamir's place stepped Breakers assistant coach Mody Maor, one of the more animated sideline characters in the game. "You'll see me as animated as the team needs me," he said pre-game.
It didn't take long for Maor to get just that during a time-out. With his side trailing 24-11, he was vigorous in his appraisal of what was unfolding. He benched forward – and potential NBA prospect Finn Delaney – and urged his team to lift defensively.
Most Viewed in Sport
From our partners
Source: Read Full Article